Kentucky receives 12 votes in week 16 AP top 25 after undefeated week
Kentucky mens basketball received 12 votes in the week 16 AP Poll on Monday.
The 12 votes were a step up from the week 15 poll, with Kentucky receiving no votes for the top 25 after back-to-back losses against Arkansas and Georgia.
Despite that, the Wildcats have seemingly redeemed themselves with an undefeated week, beating Mississippi State in Starkville and No. 10 ranked Tennessee at home for two consecutive quadrant-1 victories.
The Wildcats beat the Bulldogs 71-68 on Wednesday and defeated No. 10 Tennessee 66-54, completing a season sweep of the Volunteers on Saturday.
Following the back-to-back wins, Kentucky now sits at an 18-9 overall record with a 9-5 conference record.
Despite that, while the slight progress towards being ranked may have some Kentucky fans feeling satisfied, the Cats remained outside of the AP top 25 for the eighth week in a row after starting the season at No. 4.
While Kentucky's status didn't change, there were many drastic shifts for other teams in the week 16 AP Poll.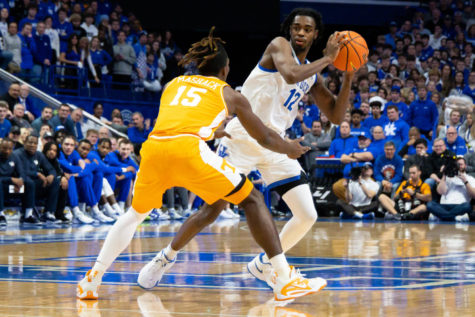 Following No. 1 Alabama's loss to No. 10 Tennessee, the Houston Cougars moved up one spot, emerging as the new No. 1 team in the country for the first time since the week 11 poll, boasting an overall record of 25-2 and a 13-1 record in conference play. Alabama moved down one spot to No. 2 in the rankings.
Kansas moved up two spots to No. 3 following its win over No. 9 Baylor at home after former No. 3 Purdue suffered back-to-back losses to fall to No. 5.
Rounding out the top five, UCLA remained steady at No. 4, while Virginia trailed just behind at No. 6 with a one-spot jump.
Despite the changes in the week 16 poll, the dominance displayed in the rankings from the Big 12 and Big East remained the same.
The two conferences boast a combined 11 ranked teams within the AP top 25, though the Big 12 notably has a larger presence in the higher seeds with four teams within the top 15 compared to the Big East's one.
No. 3 Kansas is the highest-ranked representative of the Big 12, with No. 10 Marquette representing the Big East. 
Looking into the biggest moves from teams in the rankings, the new week's poll saw Indiana drop three spots from No. 14 to No. 17 after its 64-62 loss to No. 21 Northwestern on the road. 
In the opposite direction, Providence moved up four spots from No. 24 to No. 20 following back-to-back wins against No. 19 Creighton and Villanova.
Going back to the downward trajectories, Iowa State suffered the opposite fate, dropping four spots from No. 19 to No. 23 after beating No. 24 TCU but losing to Kansas State.
For the SEC, Texas A&M made its way into the top 25 in the new poll, taking over the No. 25 spot.
More importantly for Kentucky, Texas A&M's 62-56 win over Arkansas that was followed by a win over Missouri saw the Aggies improve to a quadrant-1 opponent for teams at home.
Having gone from one quadrant-1 win to four in the span of a week, Kentucky will begin its second-to-last week of regular season games on Wednesday, Feb. 22, facing off against Florida in Gainesville. Tip-off against the Gators is scheduled for 7 p.m. EST and will air live on ESPN.
The Wildcats will then round out their week against Auburn on Saturday, Feb. 25, in Lexington, Kentucky, at 4 p.m. EST inside Rupp Arena.   
A full list of AP top 25 can be viewed below:
Houston Cougars (25-2)

Alabama Crimson Tide (23-4)

Kansas Jayhawks (22-5)

UCLA Bruins (23-4)

Purdue Boilermakers (24-4)

Virginia Cavaliers (21-4)

Arizona Wildcats (24-4)

Texas Longhorns (21-6)

Baylor Bears (20-7)

Marquette Golden Eagles (21-6)

Tennessee Volunteers (20-7)

Gonzaga Bulldogs (23-5)

Miami Hurricanes (22-5)

Kansas State Wildcats (20-7)

Saint Mary's Gaels (24-5)

Xavier Musketeers (20-7)

Indiana Hoosiers (19-8)

UConn Huskies (20-7)

Creighton Bluejays (18-9)

Providence Friars (20-7)

Northwestern Wildcats (20-7)

San Diego State Aztecs (21-5)

Iowa State Cyclones (17-9)

TCU Horned Frogs (18-9)

Texas A&M Aggies (20-7)
Others receiving votes:
NC State (54), Pittsburgh (34), Maryland (14), Oral Roberts (14), Kentucky (12), Boise State (12), Arkansas (6), FAU (6), Charleston (4), Missouri (3), Duke (3), Illinois (2), Kent State (2), Nevada (1), Oklahoma State (1).