Kentucky's NCAA Tournament outlook post Tennessee win
With its future in the NCAA Tournament looking uncertain just one week ago, Kentucky mens basketball did itself a huge favor in beating No. 10 Tennessee inside Rupp Arena on Saturday. 
Questions about Kentucky's NCAA Tournament resume have been continuously asked all season, even more so during the past month, and, after the loss in Athens, Georgia, last week, thoughts about a March without Kentucky in the "big dance" seemed like a real possibility.
Despite that hiccup, the Cats went to Starkville and earned a crucial quadrant-1 win over Mississippi State to shine some hope on a season that many in Big Blue Nation thought was long gone.
Kentucky made sure to boost its resume even further on Saturday with a second victory over No. 10 Tennessee, all but solidifying the Cats a spot in the field.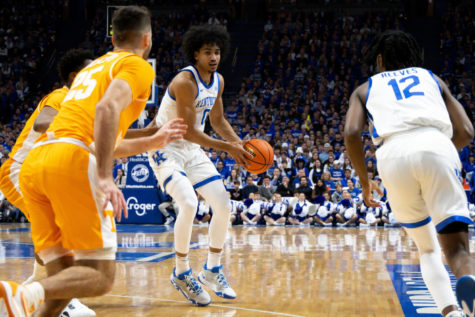 Regardless, head coach John Calipari has insisted his team ignore the outside noise about the real possibility of missing the NCAA Tournament for the second time in three years.
"Talking us out of the NCAA Tournament does not work. You either play yourself in or you play yourself out," Calipari said.  "Don't listen to all the garbage. And if you hear it, turn it off. Turn your computer off. Just have good thoughts about this team. Because this team is trying, they're fighting, they're great kids."
While he remained confident, Calipari did acknowledge that, while his team has control over its own fate, it does have two very poor losses on its resume, most of all last week's loss to Georgia and the shocking loss to South Carolina in Rupp Arena earlier this season.
"I've said all along we were going to break through. We've had two losses that you would like to have back. We've had other games, really the first game, but, you know what, none of that matters now," Calipari said. "Everything is us going forward. So, we have a tough game. We got road games, two tough road games. We got two tough home games. Play the games. Let's see how we are. Let's see if we get healthy. Let's see if we get better."
While things seem to be fine in the Wildcats' camp, the real question remains: where do others outside the program believe the Wildcats fall right now?
With the win on Saturday, Joe Lunardi of ESPN has the Cats in his 2023 NCAA Tournament Bracketology as one of the four "last four in" teams, sitting as a No. 11 seed with a matchup against fellow "blue blood" North Carolina to earn a spot into the south region for a game against No. 6 seeded Iowa in Columbus, Ohio.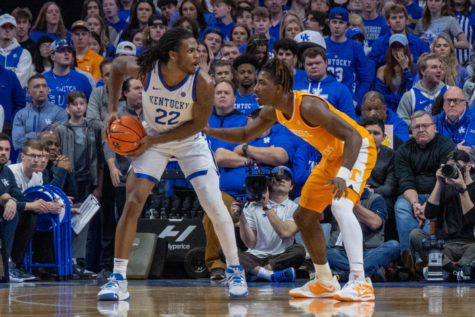 USA Today has also put out its own version of a "bracketology" with its bracket having the Cats in the field outright as a No. 11 seed in the west region, also playing the Hawkeyes, this time in Denver.
That said, the positions are far from locked in with four games left in the regular season before the SEC Tournament in Nashville.
The Cats will first travel to Gainesville to take on the Florida Gators, who are without star player Colin Castleton and are also coming off an 18-point loss to Arkansas.
The Razorbacks themselves will host Kentucky in its penultimate game of the regular season, but not before the Wildcats host both Auburn and Vanderbilt, both of which just played each other on Saturday, with the Commodores coming on top with a two-point victory. 
With all four of those games potentially offering real seed-line changing potential with a win or loss, Kentucky can't take its foot off the gas just yet.
The Cats return to action on Wednesday, Feb. 22, with tipoff against the Gators inside Exactech Arena scheduled for 7 p.m. EST. The game will air live on ESPN.