No. 11 Kentucky sets new program record in victory over No. 14 Arkansas
No. 11 Kentucky gymnastics (7-2) outlasted No. 14 Arkansas (3-6) by a score of 197.875 – 195.400 on Friday inside Memorial Coliseum.
The score broke the all-time record for the program, beating the previous mark of 197.825 set on Jan. 28 against Alabama.
The night started with Kentucky on the vault and Arkansas on the bars.
The Cats held a slight lead after the rotation, led by fifth-year senior Arianna Patterson, who scored a career-high of 9.950. Every Wildcat was able to score at least 9.875 on the vault.
Kentucky scored a total of 49.400 on the uneven bars during the second rotation, with senior Raena Worley, who tied her season high of 9.925, as the Cats' top individual scorer. Additionally, junior Bailey Bunn tied her career best with a score of 9.900.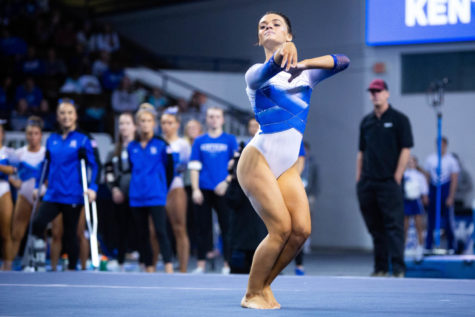 The meet was neck-and-neck close going into the third rotation, with Kentucky leading Arkansas by only .05.
On the balance beam, junior Isabella Magnelli was the highest scorer for the Wildcats with an impressive 9.950, while Patterson and senior Shealyn Luksik posted scores of 9.900, though Arkansas took a small lead at the conclusion of the rotation.
The Wildcats were able to overcome the deficit in the final rotation and seal the victory with the help of Worley's 9.950 and junior Hailey Davis's score of 9.925.
A Former first-team All-American, Worley was the highest individual scorer in the meet, with a total of 39.575.
"I think the biggest key was the fact that we competed as a team tonight," head coach Tim Garrison said. "It's less about a motivational speech and more about all the work they've put in, it's layer on top of layer of work that they've done since preseason started and since the season started to get to the point where they can compete at the level they're competing at."
Kentucky will return to competion against No. 3 Florida on Friday, Feb. 24, at 6 p.m. EST at the O'Connell Center in Gainesville, Florida.