At the buzzer: Kentucky womens basketball falls at home to Auburn 71-68
Kentucky womens basketball 9-11 (7-1) fell just short of a victory against the Auburn Tigers, losing at home 71-68.
The Wildcats played at home for the first time in over 10 days. Kentucky had recently been on the road where it found its first SEC victory of the season against the Florida Gators.
The last time the Cats took the court in Lexington, the team suffered a 95-66 loss against No. 1 South Carolina and, although the team hoped for a different outcome tonight, Kentucky was not able to overcome its home game losing streak.
Kentucky began the night with the starting lineup of Robyn Benton, Blair Green, Jada Walker, Maddie Scherr and Nyah Leveretter.
The Cats started on a high note, winning the opening tip off and immediately notching a basket, courtesy of Benton.
Kentucky would then go on to end the first quarter with Emma King and Scherr each sinking a 3-pointer to go into the second quarter with an 18-15 lead over the Tigers.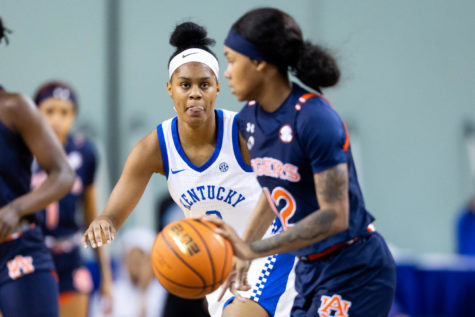 Nonetheless, Auburn was quick to talk back as it went on an 8-0 scoring run and forced six turnovers on the Cats in under four minutes.
Going into the second half, Kentucky trailed Auburn 38-35 and had accumulated a total of 12 turnovers compared to the seven it forced on the Tigers.
At the top of the third quarter, the Cats stepped back onto the court with a sense of urgency. Walker demonstrated her aggressiveness with the ball as she fought her way up to the basket for the team's first points of the half.
Scherr quickly matched Walker's energy as she put up six points, yet Kentucky would soon find itself in a scoring drought. The Cats looked for open opportunities against Auburn but found themselves without a basket for over four minutes.
The Tigers continued to dominate the court and their 11-0 scoring run took a toll on Kentucky. Going into the final quarter, Auburn led 59-50.
Things started to take a turn after Benton notched a 3-pointer and gave the Cats the energy it needed to keep the Tigers from finding a field goal for over three minutes.
With five minutes left in the game, Kentucky trailed by just three points.
In a rumbling Memorial Coliseum, the Cats rushed the ball down the court as Walker and Scherr put up crucial points for the Cats, but were unable to overcome Auburn in the final seconds.
As a team, Kentucky shot 42% from the field and 25% from behind the 3-point line while Robyn Benton led with 19 points.
Kentucky will stay at home to continue looking for a home SEC win against Missouri on Sunday, Jan. 29, at 3 p.m. EST inside Memorial Coliseum. The game can be watched on the SEC Network.