Videos show UK student using racial slurs, attacking desk clerk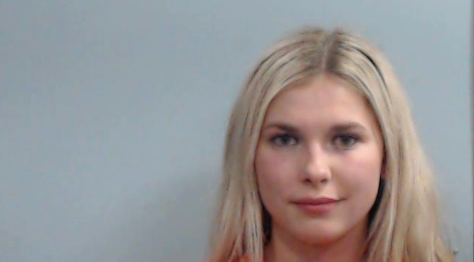 Campus police arrested a UK student Sunday morning, and the victim took to social media to share her story, saying the student used racial slurs and became physically violent.
The student was originally identified as Jane Doe on the Fayette County jail website. However, university spokesperson Jay Blanton told the Kernel she was named Sophia Rosing. She was charged with alcohol intoxication in a public place – 1st and 2nd offenses; assault 3rd degree – police officer or prob officer; assault 4th degree (no visible injury) and disorderly conduct, 2nd degree. 
A fair cash bond of $10,000 was set for her charge of alcohol intoxication in a public place, according to the Fayette County jail website.
Rosing, 22, was arrested in UK's Boyd Hall dorm building, and Kylah Spring, the desk clerk on duty working behind the dorm's check-in desk posted on Instagram with allegations against Rosing of assault and being called racial slurs.
"I worked a shift tonight where I was assaulted and called a n—, and … someone said other racial slurs towards me," Spring said in her Instagram post.
Spring said that Rosing arrived at the dorm around 1 Sunday morning, but because she "did not look like a resident," Spring did not open the door.
According to Spring's post, when she entered the lobby, Rosing stumbled when walking and began talking to the elevator.
"It is a part of our job (as desk clerk) that if we see a student that's, like, very drunk, we are to call an RA to … write up a report," Spring said.
The Instagram post included several videos depicting Rosing resisting Spring and another student's attempts to sit her down. In one video, Rosing is shown repeatedly calling Spring, the other student and a UK police officer "n— b—" and hitting the students.
Spring has since appeared on a Facebook Live video saying that Instagram has taken down her Instagram post and banned her from posting any new content. Before it was taken down, the post had over 3,000 likes and over 1,200 comments.
UK responded to the incident on Instagram, saying the university is conducting "an immediate review."
"Early this morning, a disturbing incident was captured on video in a residence hall. The video is deeply offensive, and we take it very seriously. An arrest has been made," the post said.
"The university is reaching out to student victims to offer support," Blanton said.
UK president Eli Capilouto sent out a campus-wide email on Sunday about the incident.
"From my view of a video of the incident, the student worker acted with professionalism, restraint and discretion," the email said. "To be clear: we condemn this behavior and will not tolerate it under any circumstance. The safety and well-being of our community has been — and will continue to be — our top priority."
This is a developing story and will be updated as more information is available.