Students volunteered to unpack and sort food at FoodChain, a Lexington-based nonprofit organization during Hunger and Homelessness Awareness Week. 
Hunger and Homelessness Awareness Week, Nov. 11-18, is a time for people to address and draw attention to hunger and homelessness, as well as a time for groups to hold various service and advocacy events, according to its website.
The FoodChain Thanksgiving Meal Prep took place on Friday, Nov. 17. Volunteers gathered in the Gatton Student Center Parking Lot and traveled to FoodChain by van at 2 p.m.
According to the FoodChain website, FoodChain is a non-profit organization with a goal to spread knowledge of sustainable food systems and to provide the Lexington community with direct access to food.
Amber Lawrence, a kitchen manager who has been working at FoodChain for three years, said the organization prepares and supplies about 420 hot meals to people in Lexington every Monday, Wednesday and Friday.
Lawrence said there are no barriers to who can receive meals from FoodChain, and the organization also supplies schools in Lexington with snacks.
"We pretty regularly have UK students volunteering and interning," Lawrence said.
Lawrence guided volunteers in unpacking a van full of donations and food the organization bought itself, instructed them in sorting through food and gave them a tour of the location.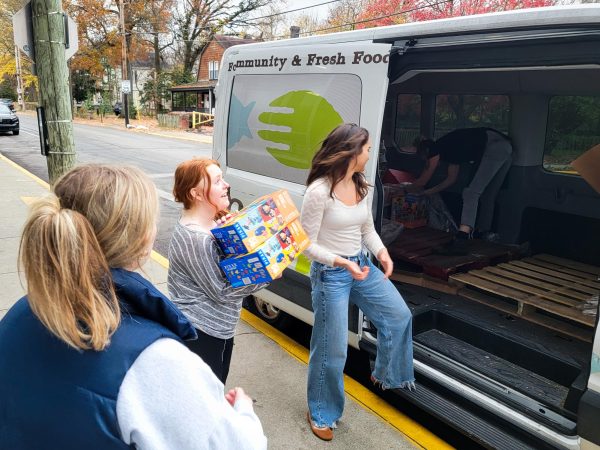 "I think it's super important to have awareness about the needs in your community and to feel connected to your community through serving people," Lawrence said.
Natalie Tolbert, a sophomore double majoring in psychology and political science, said she found out about the event through BBNvolved and wanted to give back to the community.
"We were originally supposed to be creating, I think, the food boxes for Thanksgiving," Tolbert said. 
The BBNvolved page detailing the event said volunteers would "help package Thanksgiving meal boxes." When the volunteers arrived, however, they were instead instructed to unpack and sort food.
"We ended up going through, sorting fruits and vegetables, which I think is nice because you don't really realize the kind of work that goes into what a lot of nonprofits do," Tolbert said.
Emma Clemons, a sophomore majoring in neuroscience, said she heard about the event through Alpha Phi Omega, a service fraternity.
"I think service to the community is especially important," Clemons said. "It's important to set aside time and resources for other people because sometimes we're the only people they can rely on and fall back on."
Tolbert said the experience helped her get to know more people.
"At first we were all kind of keeping to ourselves unless we knew someone," Tolbert said. "I think [volunteering] really helped break the ice with a lot of us."
Clemons said the experience was both fun and an important service to the  Lexington community.
"To do anything to help people have access to food within our community before we move onto the broader context of the issue of food security around our country in our world, I think it's really important," Clemons said.