UK Athletics announces department-wide sale of Alcohol at sporting events
UK Athletics and Kentucky Athletic Director Mitch Barnhart announced a department-wide sale of alcoholic beverages at sporting events for the 2023-24 school year.
The official confirmation came from Barnhart during his annual yearly address into the state of UK Athletics as a whole.
The school made the decision in the Spring to test a pilot program by allowing the sale of alcoholic beverages at baseball and softball games, something that was seen as a test run for the potential sale of alcohol at events such as football and basketball.
Barnhart confirmed this, speaking on the success of the pilot program and lack of overly disruptive fan behavior as a key reason for the new department-wide implementation.
"We had a pilot initiative this year with our baseball and softball venues with the sale of beer and seltzer. That went well," Barnhart said. "We had no real issues. It was a very enjoyable Spring in terms of baseball at KPP and fans enjoyed the amenities that were provided so in an effort to continue that we're going to expand this to all our athletic venues."
The athletic director continued by confirming that the sale of alcoholic beverages will begin with the first sporting events in the fall semester.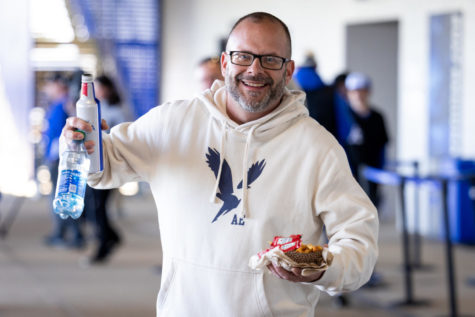 Barnhart stated that the beverages will be beers and seltzers, similar to the beverages sold at Kentucky Proud Park and John Cropp Stadium.
He also emphasized that the decision was not made purely based on the revenue generated by the alcohol sales.
"It's not a revenue decision," Barnhart said. "I think if you start making decisions on just revenue there's other things that we would do. Other ways we'd price our things and do differently. You make decisions based on other things you're trying to do whether it's the atmosphere at games or amenities that your fans desire. Frankly I don't think it's life-changing money (from just the alcohol) anyway so I don't ever want to let that drive what we do."
The decision will likely be music to the ears of many Kentucky fans who have been clamoring for the sale of alcoholic beverages since the Southeastern Conference (SEC) repealed its rule banning the sale of alcoholic beverages in 2019.
While other schools such as Kentucky's border rival Tennessee were quick to adopt alcohol sales, other schools like UK were more hesitant, though it did allow the sale of alcohol in special suites and sections.
It wasn't until the pilot program was announced that general admission fans were able to purchase alcohol at concession stands, which officially kicked off with UK baseball's home opener against Evansville on February 21.
"We paid attention to other experiences other schools were going through," Barnhart said. "We did our research with organizations on the effect it would have with crowds and safety. We just kept gathering information and then we watched the experience at KPP to see how that was managed and our fans were awesome."
It was not as though it was purely a calm baseball season either, which speaks volumes to the importance of the lack of any major disruption to kill the pilot program, with the Wildcats hosting an NCAA Tournament Regional for the first time since 2017.
In that Regional the Wildcats set a new record for fan attendance in KPP before blowing that figure out of the water by 700+ fans when 6,796 spectators packed into the venue for the Region's finale against Indiana.
Despite the big announcement, Barnhart also stated that further specific details of the decision are still being discussed and more information is still to come regarding the program.
With the 2022-23 athletic season officially in the books, Kentucky will kick off fall action with women's soccer, while the earliest confirmed sporting event in the books is Kentucky volleyball's September 1 match against Pittsburgh, which will take place in Rupp Arena due to ongoing renovations in Memorial Coliseum.