John Calipari, UK students seek to improve fan experience at Rupp Arena
Note: This story was originally released as part of a special edition along with two other stories focused on issues relating to the mens basketball team.
———————————————————————————————————————————-
With SEC play for Kentucky men's basketball nearing an end, student tickets have been selling out left and right, with hundreds of students in line hours ahead of tipoff to get to the best possible seats.
Men's basketball season tickets sell very quickly every year, with handfuls of students ready to buy single-game tickets the second they go online.
When basketball fans outside of Big Blue Nation look at a game such as Kentucky versus Kansas, it's evident why people across the nation consider the University of Kentucky one of the premier basketball schools.
In a time where attendance numbers for sporting events have declined in the aftermath of COVID-19, Rupp Arena has managed to stay crowded and rowdy for almost every game, yet Kentucky men's basketball coach John Calipari hopes to make student engagement even better and make UK into a trailblazer in college basketball.
"We lead the nation in attendance almost every year." Calipari said. "Our student attendance is really good, but student attendance overall in the country is moving down. Let's be that school again where we're doing stuff that other schools emulate."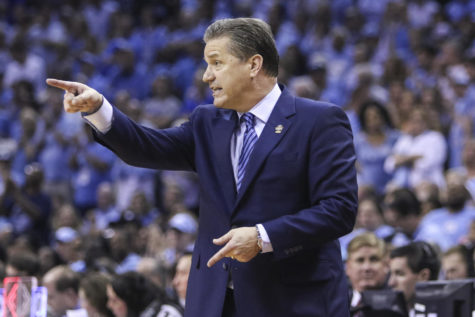 While Kentucky's non-conference games at the beginning of the season have a respectable number of seats full depending on the opponent, Calipari hopes to see more empty seats filled by students who may not have an opportunity to come to every game.
"I want every one of these students that wants to experience this (Kentucky basketball) to have that opportunity with nothing in the way of it," Calipari said.
In response to Calipari's desires, many student basketball fans had their own opinions about student engagement during the start of the season.
"I think it's not just the players, but it's the energy," sophomore Anthony Fannin said. "It's everyone coming together who enjoys the sport, to be part of something bigger. It's not just basketball in itself. I think the players make it special."
While plenty of students sung the praises of how the student engagement has been during the season, others have ideas about what they think is limiting the amount of fans who can make it out to games.
"They make it so hard to get the 'eRUPPtion Zone' seats," Kentucky student Coleman Whitmill said. "Reserved (seating) has kind of exploded recently, so then when you don't get any of those you're up in section 240, so I feel like it could be a little better."
Another prominent issue students spoke of is the location of Rupp Arena itself, with many students citing that as the reason they are unable to get out to games but are more likely to make it to a football game.
Rupp Arena is situated in downtown Lexington, sitting on West High Street, blocks away from Kentucky's student center, which in itself sits across campus from the Woodland Glen dorm buildings, which house hundreds of students.
"Probably the biggest factor is just how far the arena is from campus, but I know that's not really an easy fix," senior Tucker Clark said.
The mens basketball team played inside Memorial Coliseum, situated right across the street from the student center, before moving to Rupp Arena in 1976.
While the arena is much farther than Memorial Coliseum, it provided a massive increase in maximum capacity, with Rupp Arena able to hold over 20,000 fans.
Calipari also recognized that there is a limited number of lower-level student tickets, which he cited as part of his motivation to give back to students.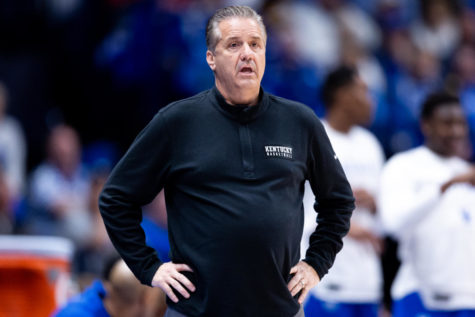 "The reason this building is where it is is so we can take care of season ticket holders and students," he said. "The issue becomes, alright, we've got all these good seats, but we've got seats up top. All I'm saying to the students is if you're here and in this building, we want to do some stuff to reward you."
It's also important to mention that, while many students enjoy the eRupption Zone experience, not all fans are in love with its location being right behind the basket.
Unlike several other college basketball arenas that feature student seating behind both baskets, Kentucky's is only behind one basket, with many students feeling that the location simply doesn't make sense.
"It doesn't get rowdy enough at these smaller games," senior Matthew Just said. "I think a lot could change if they expanded the student section to the lower levels a lot more."
Another student, sophomore Aaryan Joshi, said he only comes out to games when his friends drag him out to Rupp Arena, citing the location as his biggest complaint and saying he'd rather "be on the side more than behind (the basket)."
The eRUPPtion Zone is also controversial for another reason, with approximately 2,500 tickets being set aside for students each game, only around 500 of whom will make it into the "EZone."
In comparison, for the 2022-2023 basketball season, 15,372 tickets were sold to non-student season holders, explaining why there is little flexibility on where the student section can be placed.
"Because of all the donors that give money to buy the tickets, those seats and all that money generated from this program pays for a lot of programs here," Calipari said. "So, how do we give students more access, yet not take away from tennis or track or baseball? It's a hard juggling act."
At the end of the day, Calipari said he wants students to remember that he is not only at Kentucky for his players, but for the entire student body, even saying that he welcomes students to stop by his office if they want to talk to him or have complaints, though whether or not students could actually do this is uncertain.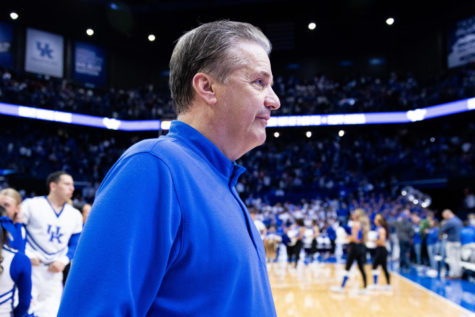 Whatever students request for bettering engagement, whether it be shuttles to Rupp Arena, locker room tours, open practice visits or otherwise, Calipari expressed interest in making it happen. 
"When I was at Memphis, I did something at my house," Calipari said. "I put up a big tent and had the student group come to my house. I would do that here. I would do the same thing. I would do all of that stuff to let the students know that we're here because of you."
With the 2022-23 season entering the home stretch before the postseason and the current No. 1 recruiting class coming into Kentucky next season, quality of play should hardly be a factor in student's decisions to come to games.
At the end of the day, the student experience is the heart that makes college basketball so special, so if something is limiting that experience, it's important for the team and university to make changes to keep its heart healthy.
While some fans may feel Calipari doesn't care about the average fan, it was in fact the hall of famer who proposed the idea in the first place, expressing a personal desire to improve the experience of students and maintain a healthy budget for all UK Athletics teams.
There may be no easy solution to perfecting the student experience at Rupp Arena, but after a season that saw a divide so deep that fans were calling for Calipari to leave the school, the goals and desires of both Calipari and the fans may be much more closely aligned than some may think.
It's clear that Calipari wants fans to be a bigger part of the Kentucky basketball experience. The only question that remains is whether or not that will actually happen.