UK Transportation Services offers eighth annual 'Donations for Citations'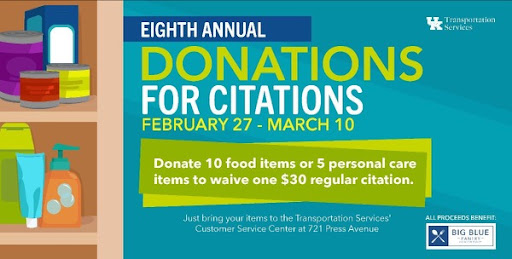 UK's eighth annual Donations for Citatitations began Feb. 27 and is set to end at 5 p.m. on March 10. 
Donations for Citations is a partnership between UK Transportation Services and the Big Blue Pantry (BBP). The organization works to fight hunger and food insecurity that UK students may face, according to its webpage.
The two week-long event is meant to encourage UK students to donate to the BBP. Since its creation in 2016, the event has collected over 16,500 pounds of food and personal care items, according to UKNOW.
UK students and employees who have a regular parking citation of $30 are able to pay this fee through donations. 
The items which can be donated include personal care items and food items. 10 food items or 5 personal care items can waive one $30 regular citation.
Donations can be taken to UK Transportation Services' customer care center at 721 Press Ave. in Lexington, Kentucky, from 7:30 a.m. – 5 p.m.
The following food donation items are suggested:
Boxed macaroni 

Noodles

Pasta sauce (red or white)

Rice (white, brown, box, or bag)

Cereal

Instant oatmeal 

Granola bars

Pop tarts or other grab-n-go breakfast items

Canned meats such as chicken, tuna, beef, pork, or vegetarian alternatives

Individual cups of fruit or applesauce

Shelf-stable microwave meals

Peanut butter

Condiments

Jellies

Shelf-stable salad dressing
The following personal care items are suggested:
Cleaning supplies (detergent, dish soap, etc.)

Toilet paper

Paper towels

Hand sanitizer

Body soap

Shampoo and conditioner

Shaving cream

Razors

Tampons or sanitary pads

First aid or medical supplies
The citations which are not included in the campaign include immobilizations, impoundments, parking in fire lines, ADA accessible parking violations, or improper application or use of parking permits.
Citations waived through Donations for Citations are not eligible for appeal.
For any questions about the Donations for Citations drive, email [email protected] or call 859-257-5757.