Kentucky rifle finishes third in GARC Championships, prepares for NCAA Championships
Kentucky rifle finished third at the Great American Rifle Conference (GARC) Championships, just one point behind Ole Miss and eight points behind West Virginia, on Sunday. 
Kentucky's air rifle team tied for first behind an impressive, gold-medal-winning performance by freshman Sofia Ceccarello. 
The air rifle's team score of 2,379 followed Saturday's smallbore score of 2,335, which was the third highest.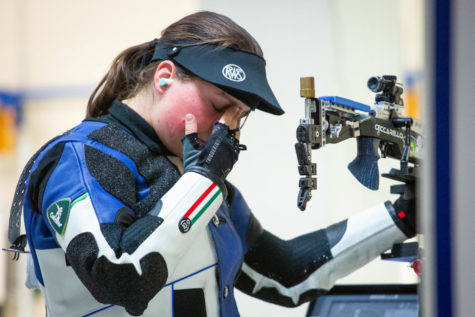 Despite the impressive air rifle score, the Cats could not close the gap that Ole Miss and West Virginia had built. 
Even though the team fell short, team coaches were pleased with the weekend. 
"I thought we really came out with the right mindset today to be aggressive and overall, I am happy with how we performed," said head coach Harry Mullins in a press release.
This optimism was likely boosted by Sunday's air rifle final that saw three Wildcats in the final, making Kentucky the only team to get three competitors into the final.
Ceccarello took home gold for the first time in her career while her fifth-year senior teammates, Richard Clark and Will Shaner placed fifth and sixth.
Ceccarello scored a 599 while her teammates Richard and Shaner scored 595 each.
The air rifle team was rounded-off with solid performances from sophomore Allison Buesseler and freshman Martin Voss, who both scored a 590. 
Senior Emmie Sellers led the charge in smallbore with a score of 592 while her sophomore teammate Kayla Kalenza finished just one point behind with a 591.
Both Cats were accompanied by senior Mason Hamilton and fifth-year senior Mitchell Nelson, who both scored 588, followed by freshman AJ Hotko, who notched a score of 587 and senior Jaden Thompson, who recorded a score of 586.
Kentucky will wrap up its 2022-23 season in the NCAA Championships from March 10-11 as it seeks its third consecutive national title.