UK men wear pink for the cure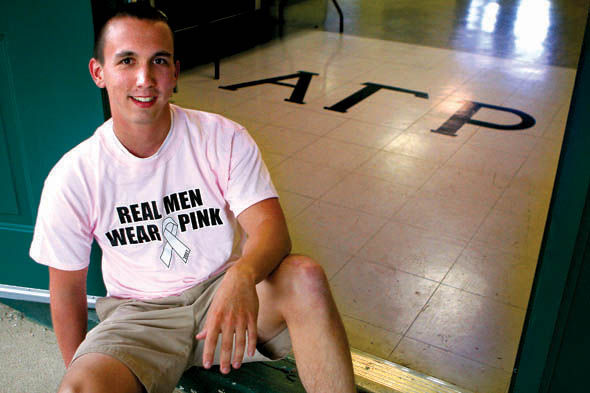 Will Stahl is not ashamed to wear pink.
In fact, the traditionally feminine color did not stop the men of Alpha Gamma Rho from wearing pink T-shirts all over UK's campus and it has not stopped them from taking their rose-colored threads nationwide.
The fraternity started a T-shirt campaign last year to raise money for breast cancer research and beginning Monday, 65 colleges from around the country will join the group's efforts.
When Stahl was trying to find a philanthropic event for his fraternity last year, he thought of his grandmother's battle with breast cancer. The fraternity house's cook at the time was also fighting the disease.
These two women made Stahl realize that the statistics on breast cancer are very real, he said.
"One out of three women will have breast cancer or know someone who has had it," said Stahl, who is noble ruler of UK's chapter of Alpha Gamma Rho.
Stahl found a simple way to raise money for breast cancer research by selling pink T-shirts — pink is the color of breast cancer research foundations around the country — bearing the slogan: Real men wear pink.
"We made up the t-shirts with (the slogan) plastered right across the front," Stahl said.
The simple fundraiser had impressive results, Stahl said.
Alpha Gamma Rho sold 530 shirts in three weeks and donated $2,763 to Susan G. Komen for the Cure, according to the fraternity's Web site.
David Moore, president of the Susan G. Komen board in Lexington, said Alpha Gamma Rho pushed for success and did a great job.
"It's a big deal," Moore said. "We really appreciate that kind of involvement."
It took about a month to contact the chapter presidents at various colleges throughout the country, Stahl said.
Stahl said the goal is for other campuses to do well and for more people to get involved at UK.
To get women on campus involved, the fraternity created shirts for girls that read, "My man wears pink."
The shirts, with new designs this year, will be available to order on the Alpha Gamma Rho Web site, (www.ukagr.com) Sept. 1 — 26. Wearing the shirts shows support for the cause and hopefully raises awareness, Stahl said.
"(Breast cancer) is a whole lot easier to detect if people know how," said Stahl, "And that's what Susan G. Komen is about."
The T-shirts are $10, with about 70 percent of proceeds going to Susan G. Komen for the Cure. The rest of the money goes toward the cost of making the shirts and selling them online.