UK unveils plan for new sports facilities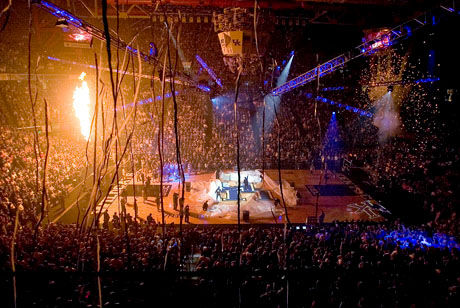 Story by Alex Risen
The University of Kentucky plans to revamp three of its sports stadiums with $300 million to $400 million in private donations.
The plan includes building a new basketball arena, new baseball stadium and expanding Commonwealth Stadium. The new basketball stadium would sit where the current parking lot for Rupp Arena is between High and Maxwell streets. Cliff Hagan Baseball Stadium would be replaced by a new field.
The Commonwealth Stadium expansion would include new club seats and suites as well as other premium seating according to Tony Neely, director of media relations for football.
UK athletic director Mitch Barnhart said that no taxpayer money would be used in the overhaul and that the $300 million to $400 million-dollar plan would comprise of only private investments. However, the plan has not yet been completely approved and is only in the feasibility stage. The Lexington Center Corporation board has approved UK's plan to build a new basketball arena and will give the university six months to decide on the practicality of the idea.
The same goes for the Commonwealth Stadium expansion. "We are only in the feasibility stage right now and there are no plans to build a new football stadium in the near future," Neely said.
If the plans go through, UK could be playing basketball in a new arena as early as 2014 according to LCC officials.