Selling Success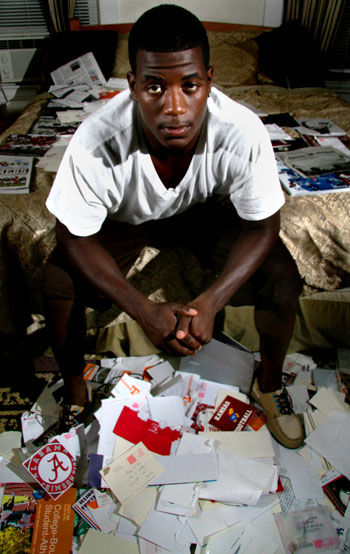 On-field prosperity helps pull in star recruits for Cats
"Team First, Me Second."
Those words, white on a black background, line the halls of Louisville Central High School's locker room. Typical coach speak, the message is simple: don't be a hero; do what the team needs you to do above all else. But in the world of recruiting, that saying is blasphemy. Being seen by the top schools invites one philosophy: Me first.
In years past, recruiting by UK football hasn't been stellar when compared against the Southeastern Conference. The Cats were fortunate to sign a few decent players; anytime they landed a major recruit he was considered to be the Holy Grail.
Not anymore. So far, UK has commitments from one four-star quarterback, another five-star quarterback and two handfuls of three-star players. In all, UK has 20 commitments so far this year.
Offensive coordinator Joker Phillips, alongside recruiting coordinator and quarterbacks coach Randy Sanders, keep hearing their names pop up across recruiting Web sites across the Internet.
"We're starting to reap the benefits of two bowl wins," Sanders said. "Everyone was saying how our first bowl win would help recruiting and I said it will help a lot more in a year or two. No question that hard work and effort helps too."
That hard work is what brings Phillips to walk down that hallway to Central's locker room every spring where the white letters scream out from the black paint on the walls. The rise in Kentucky high school football has also coincided with the rise of UK in college football.
That's why you'll see Phillips talking to the latest Central defensive star, the next Corey Peters in waiting, trying to convince another homegrown Louisville kid to defect 70 miles down the road. And lately, Phillips has been pretty convincing.
More access, more knowledge.
Ridge Wilson has two large moving boxes cluttered full of letters from prospective colleges, coaches hoping to lure the star linebacker.
At first, Wilson had fun with the daily letters, now they are a chore.
"I still feel good about the letters," said Wilson, a senior linebacker at Central. "At first it was like 'Wow, all these schools want me.' Now I have to stay humble."
One particular letter that stood out in particular is from Wilson's state university, UK. Four or five years ago, the letter would have likely been pushed aside. Only, UK is no longer a pushover anymore.
After back-to-back bowl wins, the football program has become a legitimate annual contender. When recruits hear the name Kentucky, they no longer just think basketball.
That's why Wilson, despite pressure from other big-name schools and its fans, chose UK.
Scout.com recruiting analyst Dave Buerk attributes Wilson's choice and the others to the rapid improvement of UK's recruiting. In particular, Buerk points to the age of the Internet and wall-to-wall TV coverage.
UK, as part of the SEC, had games televised on CBS and ESPN last year, allowing potential recruits to watch those games from the comfort of their homes instead of traveling to Lexington.
"Kids are talking about that UK-LSU game in a way that you'd think thousands of recruits were at that game," Buerk said.
And when it comes to UK, one man is the key to that coaching bond: offensive coordinator and head coach in-waiting Joker Phillips. Wilson describes his relationship with Phillips as "real cool", saying that walking around UK's campus with Phillips was like walking the halls of his high school.
Wilson said that Phillips is a coach he can relate to — a coach who takes business, mixes laughter and gets a commitment by the end of the day.
"I don't like a coach who is so uptight like football is jail," Wilson said. "Joker knows when it's time for business, but knows how to play too."
That's why when asked if anyone played a big role in their recruitment, Phillips' name comes up. And not only does Phillips wow the players he wants, but their coaches too.
"Joker is excellent," said Ty Scroggins, Wilson's coach at Central. "He doesn't just talk to the players, he'll talk to the whole student body."
But Phillips isn't the only piece of the puzzle. Brooks, Sanders and the rest of the staff have all pulled an ample amount of recruits from their own personal pipelines.
"We have a good recruiting staff," Sanders said. "The coaches work hard at it, identifying good players and following up on them."
Add increased visits, unofficial visits, TV coverage and hundreds of Internet sources and Burke says that recruiting is in an unprecedented spot right now.
"Today, more than ever, players know what's going on in college football," he said.
Rising in-state talent
There's not a single more cherished term in recruiting than pipeline. The term references a certain state, area or even high school where coaches consistently grab recruits from.
To say Phillips has a pipeline to Central would be an understatement.
UK's current starting defensive tackle Corey Peters started the line and redshirt freshman Joe Scott continued along the path. Central defensive tackle Mister Cobble is headed UK's way, as is Wilson, and several other Central stars, including Jordan Tennyson and Tim Patterson could land in Lexington.
"It's great that Central kids are getting the opportunity here," Peters said. "I like to think I had something to do with it, but I probably didn't."
But in fact, Peters did. As a four-star recruit in 2004, Peters was hearing from schools big name schools eager for his talent. Michigan called. So did Notre Dame. Peters decided to travel down Interstate 64, laying the foundations for UK's pipeline.
Now, Central's recruits are thinking long and hard about UK because of his decision and success at UK. Cobble credits Peters as part of his reason for committing to UK, and Tennyson said he's in constant connection with Peters.
Before Peters' recruitment, Central was an underachieving football school. They had athletes, but either grades or off the field problems derailed college football careers before they even got started.
Now, Central is a defending state champion and expected to defend its 3A title this year as a rising hotbed of prospects and a revitalized school.
Selling the Cats
As Central has risen, so has UK. It's not a direct correlation, but as UK has focused its efforts more on in-state gems, such as current Cats Alfonso Smith, Garry Williams, and Aaron Boyd, the program has gotten significantly better.
The rest of the nation is noticing UK's rising hotbed of recruits as well.
While the state of Kentucky will never be compared to the plethora of recruits that California, Texas and Florida churn out, colleges are pursuing Kentucky's recruits harder than ever.
Just ask Central's Ridge Wilson, who on an unofficial visit to Alabama had to fight off fans at a local steakhouse who were begging for autographs and pulling up his Rivals.com profile on their cell phones.
It didn't matter though. The pipeline, the exposure and the recent success of UK football were all Wilson needed.
It was a personal decision, sure, but it was one that ultimately came down to UK's newfound ability to promote the program, a concept Sanders equates to sales. For the time being, UK is selling its product off the shelves.
"We try to sell the positives," Sanders said. "We have a great city in Lexington, a quality education, good coach and player relationships. It gets down more to hard work and relationships."
It gets down to "Team First."