Crystal Skin Products Reveal Clear Complexions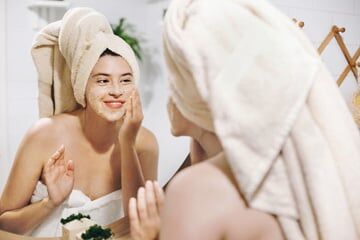 (NewsUSA)

– -It's winter, the air is dry, and your skin may be feeling as dull and tired as used wrapping paper. Microdermabrasion, a skin-brightening and exfoliating technique to remove dead skin cells, oil, and dust particles, is the go-to skin care boost for many, but the ongoing pandemic may make many people less inclined to visit their favorite spa.
Microdermabrasion has been shown to promote younger-looking skin and help reduce the appearance of aging, and a range of DIY products is now available to help consumers get the benefits of spa-quality skin care in the comfort of home. However, not all home microdermabrasion products are created equal.
NeedCrystals, a company founded by former spa operators, offers specially formulated aluminum oxide super-fine microdermabrasion crystals that are dust-free and gentle enough for all skin types. The crystals are designed to be added to any type of facial or body cleanser for a customized exfoliation. (Click here to view video)
"NeedCrystals aluminium oxide microdermabrasion crystals are preferred by dermatologists and aesthetic skin-care professionals for cost-effective quality that offers great results," according to company co-founder Jean-Michel Balensi.
"Our unique microdermabrasion crystals are specially prepared microcrystalline aluminum oxide (corundum) crystals. The material is 99.55% pure and is fused at nearly 4000 degreeF in order to form the grain structure that provides optimal abrasive properties."
In addition, NeedCrystals has earned a Carbonfree Product Certification to help reduce greenhouse gas emissions associated with crystal production.
NeedCrystals offers prepared microdermabrasion crytals that are 100% vegan and free of parabens, gluten, dyes, and fragrances. Three formulas target different skin concerns:
– Original Microderabrasion Crystals. The company's best-seller, these gentle, yet effective microdermabrasion crystals come in a wide-mouth jar with spoon applicator for easy addition to your favorite products
– Crystals With Added Salicylic Acid for Acne-Prone Skin. This crystal blend is formulated to help improve the appearance of acne scars, while eliminating the bacteria that can clog pores and cause new acne breakouts, and comes in a tall metal jar with shaker top.
– Crystals With Added Vitamin C. Vitamin C has been shown to help improve the appearance of skin aging, and the vitamin C crystal blend is designed to promote skin clarity and radiance; this product also comes in a tall metal jar with shaker top.
The NeedCrystals microdermabrasion crystals allow you to create your own spa experience at home. The NeedCrystals are also available for ordering in bulk by spa owners and aesthetic dermatology practices.
Visit needcrystals.com for more information. To purchase, visit Amazon.com.