Column: Travis Ford is the logical choice for head coach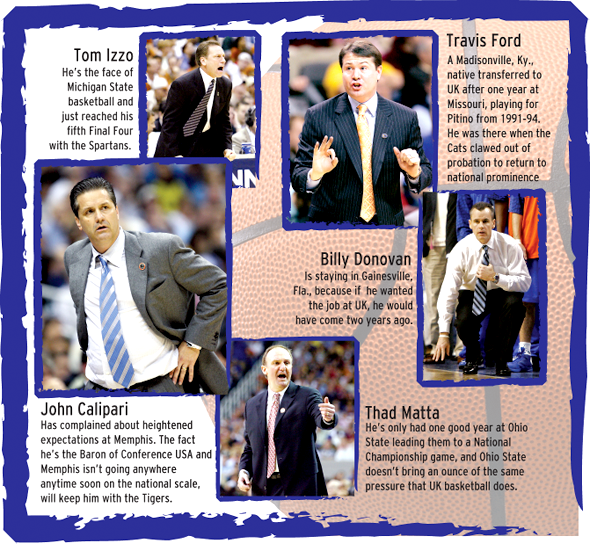 It's a fool who thinks UK is going to land the other Billy, or any other high profile name, for the other president of UK: the head basketball coach.
The grass is hardly greener at UK than their respective empires, so given that, everyone, say hello to Travis Ford — again.
For the last 24 hours, fans and the media both have been touting the same names to become the new head coach of men's basketball at UK. But a quick bit of common sense can narrow down the list.
Rick Pitino isn't coming back. He likes Louisville, the Cards made a solid run at the championship, and the future for Pitino is very bright about 70 miles away down Interstate 64.
Billy Donovan is staying in Gainesville, Fla., because if he wanted the job, he would have come two years ago. Besides, the Orlando Magic is still a more attractive job and he didn't stay with them for more than a weekend.
John Calipari, Tom Izzo, Jay Wright and Darrin Horn won't leave their teams either. The first two are cementing legacies at their institutions and the second two aren't ready to leave their teams yet — if they ever will be. Izzo secured Michigan State its fifth Final Four under his leadership.
You can cross off John Pelphrey as well, because he isn't ready, and if UK Athletic Director Mitch Barnhart gets that far down the list, the Cats should have just kept Billy Gillispie.
That leaves three realistic options — Travis Ford, Sean Miller of Xavier and Thad Matta of Ohio State. You can probably cross off Miller because he's waiting for a Big East job, and X through Matta because all he had is one truly successful year and Ohio State basketball doesn't bring an ounce of the same pressures as UK basketball does.
So, if you want to sound like the most knowledgeable kid in your circle of friends, stick with Ford. Track his flights if you prefer, could be smart.
Because the talk about Donovan, Pitino, Calipari and Izzo is foolish and all four have already publicly commented they weren't interested in leaving their respective schools.
That means UK and Barnhart need to employ the Roy Williams approach — get a former player or assistant coach that knows exactly what it means to coach at UK and has proven themselves at other places because that's what Barnhart and UK President Lee Todd have expressed as needed to be UK head coach.
"It includes a lot more than coaching and recruiting. It's like a president's job, nobody writes out exactly what you have to do, but there is a lot to it," Todd said during Friday's news conference announcing Gillispie's firing. "Philosophically, we need someone who nurtures the entire Big Blue Nation, has a philosophy that this is a unique opportunity and job, and understands it is a lot broader than what happens on the floor."
Ford, a Madisonville, Ky., native (who could relate directly to recruit Jon Hood and who also chased after recruit Daniel Orton), transferred to UK after one year at Missouri, playing for Pitino from 1991-94. He was there when the Cats clawed out of probation to return to national prominence. Ford was a point guard; he could help push Michael Porter or DeAndre Liggins into better players.
And when it comes to his coaching, he led Eastern Kentucky to the NCAA Tournament, giving Tubby Smith's 2005 team hell in the first round. He returned UMass to semi-prominence in two years, an area the Minutemen hadn't seen since Calipari had left that job.
This year, he took Oklahoma State to the second round of the NCAA Tournament. Obviously, Ford can coach wherever he goes. When Gillispie was hired two years ago, Ford was a long shot candidate.
Now, he's a top choice to be the next coach at UK. Not because he's a former player, but because Ford deserves to be.
Get your plane trackers and banners ready. Travis Ford should be coming back to town.