Leading UK researcher dies at 77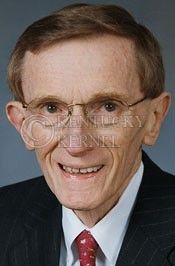 The UK community lost a "giant in his field" Saturday. Dr. William Markesbery, director of the Sanders-Brown Center on Aging, died on Jan. 30 at UK Hospital.
Markesbery, 77, led the center for more than 30 years.
Dr. Paul Bachner, professor and chairman of pathology and laboratory medicine, met Markesbery during their residency at Columbia-Presbyterian Hospital in New York in the 1960s. Bachner said Markesbery had a dedication to his job matched by none.
"He was the most hardworking human being I have ever known," Bachner said. "He was very giving of his time. He was always willing to go over a case with a resident or colleague, even though he has an enormous workload."
A fan of the New York Yankees as well as the Cats, Markesbery was a huge sports fan and passed up a career in professional baseball to become a doctor, Bachner said. Markesbery was a member of the first graduating class of the UK College of Medicine in 1964.
Described as a quiet man who preferred to be in the background, Markesbery's contributions to his field include more National Institutes of Health grants than any other researcher at UK, more than 410 peer-reviewed, scientific publications and numerous awards recognizing his work to find a cure for and to prevent Alzheimer's disease.
"If you had to pick five names of major contributors to research (of Alzheimer's disease), Bill would be on any list anyone put together," Bachner said.
Cecil Runyons, Sanders-Brown Facilities administrator, said the world of research lost a precious item in Markesbery.
"He was a tireless worker," Runyons said. "He worked when most people just wanted to stay home. He was here long after most people left. He was an incredible man."
Runyons said Markesbery will be missed by many because his work reached beyond just the limits of campus.
"Dr. Markesbery was a compassionate clinician, a wonderful teacher, and a tireless administrator. The ones who knew him well will miss him most, but his passing was a tremendous loss to the university and to the commonwealth of Kentucky," Runyons said. "And even beyond that, the international scientific community is left with a large void that will be difficult to fill. Our thoughts and prayers also go out to his family who ultimately have suffered the biggest loss of all."
Markesbery did not let struggling with an illness stop him from continuing to do what he cared so deeply about, Bachner said.
"He would work from home," Bachner said. "I knew once he came into work on intravenous antibiotics, he was enormously devoted to his work."
Markesbery led the UK Sanders-Brown Center on Aging from its founding in 1979 and was director of its Alzheimer's Disease Center. He was a professor of neurology, pathology, neurosurgery, anatomy and neurobiology in the UK College of Medicine.
Originally of Florence, Ky., Markesbery is survived by his wife, Barbara Abram Markesbery; his daughters, Dr. Susanne (Michael) Arnold, associate professor of medicine for UK and oncologist at UK Markey Cancer Center, Kendall Markesbery, and Allison (John) Robbins; grandchildren, John and Henry Arnold and William and Malia Robbins; and brother, Dr. Harold (Junel) Markesbery.
The family plans to hold a private funeral and a public memorial service at a later date.
The family requests contributions be sent to the Sanders-Brown Center on Aging and the Best Friends Alzheimer's Respite and Day Care in lieu of flowers.