South Carolina student president apologizes for previous letter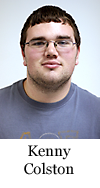 All bets are off.
There will be no exchange of Firefly Vodka or Woodford Reserve Bourbon between two Southeastern Conference student governments.
With a letter sent to UK Student Government President Ryan Smith, University of South Carolina Student President Meredith Ross ended a tussle between two fanbases.
In the letter, Ross cited utmost respect for UK and apologized for a Jan. 26 resolution the South Carolina student senate passed claiming athletic dominance over UK and possession of a better mascot.
It's a real shame, considering the fun that could have been had leading up to the two basketball teams' rematch in a little under two weeks.
Smith, who saw the letter on Sunday, said a lot of time wasn't spent on his end with the original  resolution, but he was gracious for the second letter.
"I appreciated the letter," Smith said. "It hasn't occupied a lot of our time. We've been working on some other things. I didn't know (about the second letter), hadn't thought about it. But I'm looking forward to Feb. 25 when we can show them some good Kentucky hospitality."
Smith has taken both letters with a rolling of the eyes. He has taken the high road. But no one would have blamed him if he played along and took the YouTube bet with his counterparts in Columbia, S.C.
The blame doesn't lie on either student government though. Both are full of college students looking to have a good joke from time to time, and with a strong interest in their own athletic teams, the more fun they can have, the better.
Instead, fans of the Big Blue Nation and South Carolina ruined the fun this time.
Already known for taking basketball a little too seriously, UK fans should have laughed at the letter and responded with a playful jab at overall excellence and a reminder that the Gamecocks have to return to Rupp Arena.
South Carolina fans have a lot of bragging rights that are evident in the original letter, but they should have seized the moment and continued to challenge UK and its fans.
Isn't that what college athletics is all about: Having fun, throwing verbal shots at each other and letting it all play out on the court? Instead, we have two fan bases that took a joke by a bunch of college kids trying to have some fun and blew it all to hell.
Why does it have to be that way?
UK fans, already known for being sore losers nationally, decided to solidify that reputation. Survey 1,000 people, media types to the regular fan, and the odds would be overwhelming in UK's favor as to which team is better and which team will go further in March. Instead of realizing this, many UK fans took the low road and forgot the bigger picture.
South Carolina fans turned on some of its own, an even worse infraction.
In the end, everyone lost.
So UK fans, rejoice. The South Carolina Student Government has surrendered. You won the victory, but lost the reputation war, again.
And South Carolina fans, be ashamed for the backstabbing you did to your own fans, your own students.
There's still some victories left to be had. One of the two teams will win on Feb. 25 and one fanbase will be able to gain or retain bragging rights.
"I'm sure all 27,000 students will be excited to see South Carolina come to town," Smith said.
They sure will, but it would have been better if a select few hadn't ruined the fun between two student governments.
RELATED STORY:Fowl Play: South Carolina students crow over athletic supremacy