Quigley, men's tennis enter SEC season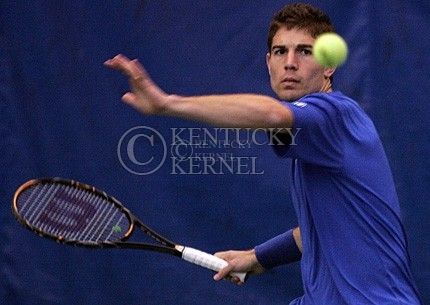 There are as many players from France — two — as there are native Kentuckians on the UK men's tennis team. But for sophomore Eric Quigley, a graduate of South Oldham High School, a December trip to France was just what he needed to propel himself into the spring season.
Quigley, the No. 8 singles player in the country, was one of six players chosen to represent the U.S. in the Master'U BNP Paribas, an international competition for college players.
Quigley said playing against some of the best college players in the world this winter is a big reason why he has been able to lead UK (9-4) to a No. 8 ranking this spring, their highest since 2003.
"It really helped me set up for the season this spring," Quigley said.
The Cats' signature win came Feb. 6 when they upset then-second-ranked Virginia. The Cavaliers took a 63-match winning streak into the match. Quigley won his singles and doubles matches in the effort. Quigley partners with junior Brad Cox in doubles, and the duo is ranked No. 15 nationally.
UK is no stranger to having a highly ranked singles player. For the past four years, the now-departed Bruno Agostinelli led the Cats and started last year as the No. 4 player in the country. But Quigley's case is a bit different, because while Agostinelli achieved such a high ranking later in his career, Quigley has done so as a sophomore.
"It's kind of cool, I guess, to follow Bruno's footsteps because he was such a good role model for me," he said.
Associate head coach Cedric Kauffmann said Quigley can play with anyone in the country, and with more than two years of eligibility left, he has not yet reached his full potential.
"Can he be No. 1? Yeah, but it's a lot of work," Kauffmann said. "I think the top 15-20 guys can beat each other on any given day. It's just a matter of consistency throughout the year."
UK opens its Southeastern Conference schedule this weekend with home matches against Mississippi State and Ole Miss. To keep improving his game and lead UK to an even higher ranking, Quigley said he mainly needs to focus on the mental aspect of his game and his consistency.
"It's one of those things I think you can work on," Quigley said. "Just trying to block everything out so you can work on what you need to."
Quigley has already taken an active role in trying to improve his game, something Kauffmann said his teammates have definitely noticed. Quigley does not consider himself a vocal leader — he said he lets his play do the talking — but Kauffmann said he has seen a change in Quigley that has had a ripple effect on the rest of the team.
"I think he's taken a little bit more of a leadership role," Kauffmann said. "I think he's grabbed it and said 'OK, I'm going to work hard,' which has been really positive for him."