Plenty of tickets still unsold for New Orleans games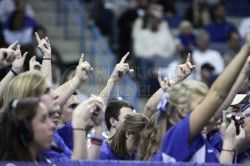 NEW ORLEANS – They say that "Blue gets in" no matter where the Cats go, but even the Big Blue Nation can't sell 'em all out.
UK was certainly well-represented in its opening round game and on the streets of the Crescent City, but there were still plenty of empty seats for UK's win over East Tennessee State. According to a Wednesday article in USA Today, only about 65 percent of tickets for all the games at the site had been sold by Thursday. Sales across the country were mostly strong, with New Orleans being a notable exception. Announced attendance for UK's game was just over 10,000, filling a little more than half of the 19,000 seat arena.
There was no outrageous scalping in New Orleans or price-gouging on tickets. In fact, the scene outside the arena was incredibly tame compared to what we see in Lexington on gamedays. No street vendors, no massive crowds of people waiting to get in, and no long lines. If not for a parking lot full of satellite trucks and a couple police officers directing traffic, you might think there wasn't even a game today – let alone a full slate of opening round games lined up one after another.
Upper level tickets for UK's first round matchup with East Tennessee State were still available just a couple hours before the game for $66. There were also still tickets for UK's second round game against the winner of tonight's Texas/Wake Forest game. Earlier in the day, you still could have purchased a package to watch all three games at the arena that day for $198 – not a bad deal if you're a big-time college basketball fan.
I spoke with a police officer right outside New Orleans Arena a couple hours before the game, and he told me that scalping is illegal in Louisiana. There wasn't a whole bunch of activity outside the arena, though (not surprising considering there were still tickets available at the box office). Also, it's illegal to sell tickets within a couple blocks of the arena at all, the police officer said.
If you do find yourself some tickets from someone on the street, beware. A security guard working at the arena told me that he also works at Saints games (the Superdome is just across the street), and that tickets bought on the street here often turn out to be counterfeits. Again, not a lot of activity outside the arena earlier this afternoon, but if you're in town and you decide to get some tickets, why risk buying a fake ticket? You probably won't have any trouble just buying a ticket at the arena or on Ticketmaster.