Dance marathon kicks off Friday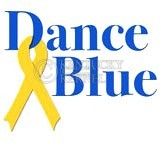 Twenty-four hours of no sitting and no sleeping is how 600 UK students will spend their weekend.
UK will hold its fifth annual DanceBlue Dance Marathon from 7 p.m. Friday to 7 p.m. Saturday at Memorial Coliseum.
The event is a struggle to stand up and stay awake for 24 hours to represent the struggle of cancer, said Slade Thompson, DanceBlue Vice-chair.
DanceBlue is the largest student-led fundraiser in Kentucky, Thompson said. Campus groups form teams and raise money on their own. At the end of the year, the teams pick people to represent them at the marathon as dancers. It costs $300 per person to participate.
This year to fundraise, students did gift wrapping at Amazon and were paid for each gift wrapped. Others held bake sales, restaurant nights — a percentage of the sales for a certain night are donated — and a residence hall held a penny war that raised $200.
"My favorite thing about DanceBlue is how so many college students spend their time to raise money for a great cause that is helping Kentucky's children with cancer," said Emily Rentschler, DanceBlue registration and recruitment coordinator.
The money raised goes to the Golden Matrix Fund, which benefits cancer patients and their families at the UK Pediatric Oncology Clinic. Fifty percent of the money goes toward research and the other half goes to the salary of social workers and nurses.
"This is money they depend on," Thompson said. "When a child has cancer, it's like the whole family has cancer. Our goal is not only to help families today but also help the families of tomorrow with research."
The first DanceBlue marathon in 2006 brought in $123,323 and since then, a total of more than $1.3 million has been raised, not including this year's funds.
Dancers' friends are encouraged to attend DanceBlue to cheer on the participants. They will perform a line dance every hour on the hour that will last about 10 minutes.
For those unable to attend, there will be a live stream at sweb.uky.edu/DanceBlue and coverage on radio station 104.5 "The Cat."
Thompson is asking people to meet at Memorial Coliseum at 6:30 p.m. on Friday for a new tradition with DanceBlue. Students will form a human tunnel for dancers to run through on the way into the building to kick off the marathon.
The last few hours of the marathon will feature the patients and their families. Starting at 4 p.m., there will be a talent show featuring the children, their families and nurses. Memorial Hour will follow with a video and speakers. The announcement of funds raised will be held at 6 p.m.