Seniors, Patterson reminisce on careers at UK thus far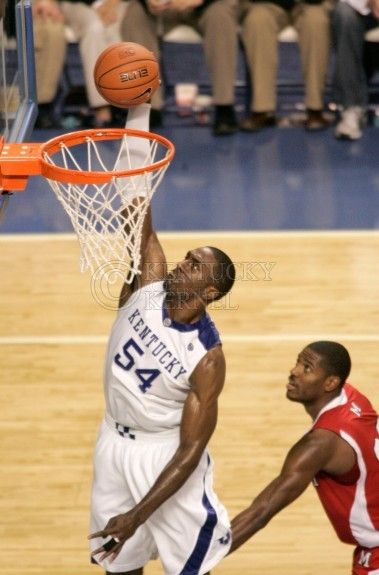 Three seniors and a junior will be honored on Sunday afternoon at Rupp Arena, and the Cats (28-2, 13-2 Southeastern Conference) will attempt to clinch the outright SEC regular season championship.
Junior forward Patrick Patterson, who will graduate this year, will take part in Senior Day festivities with his decision about foregoing his senior season for the NBA still in flux. On Friday, UK's three seniors and Patterson reminisced on their careers at UK, going through three different coaches, doing impressions and cracking jokes.
Seniors Ramon Harris, Perry Stevenson and Mark Krebs have had three different coaches during their time at UK. Harris and Stevenson being the first four-year scholarship players to play for three different head coaches since 1929, when John Mauer, Basil Hayden and Ray Elkund each coached in a four-year span. Mauer was succeeded by legendary coach Adolph Rupp in 1930.
Stevenson said if he were to become a head coach he'd be a little bit of each of Tubby Smith, Billy Gillispie and current UK head coach John Calipari. He said he's still appreciative of Smith taking a chance on a "6-foot-9, 190-pound" player. Stevenson then described what the coach would be like if he were Smith, Gillispie and Calipari all put into one.
"He'd be funny, intense and a little crazy," Stevenson said. "And that's for you to decide which qualities go with whom."
Calipari said the seniors will all start along with Patterson. Calipari also said the way the seniors play will determine how long they stay in the game and that if they were playing well he would leave them in.
"I think they deserve it," Calipari said. "They've worked hard, they're a part of the team, it's their day. You want to win, but I always say it's more than winning."
Though Patterson will be participating in Senior Day activities, he said he still has not come to a decision as to whether he will forego his senior season for the pros. Calipari said if players graduate in three years they should be honored, and if Patterson decides to come back for his senior season they'll do it all over again that season. Patterson said how well the team does in the NCAA Tournament could make his decision easier.
"If I become satisfied with what I've done, what we have (accomplished as a team), then my decision to leave will be easier to make," Patterson said. "I'm just focusing on accomplishing these goals, team goals and individual goals, for myself for this year to make that decision easy once I come to it."
Patterson returned to UK for his junior season for a variety of reasons. In his first two seasons in Lexington, Patterson played with his back to the basket as more of a center-type player. Under Calipari's tutelage his outside shot and ball handling abilities have improved considerably, thus making him a more tantalizing option for NBA teams.
Patterson also has never played in an NCAA Tournament game before after getting injured at the end of his freshman season and UK not being invited to the Big Dance his sophomore season. Patterson also wanted to earn his degree which he will do this year, and he said he's having a great time at UK.
"I always knew that the NBA was going to be there," Patterson said. "If God wanted me to go to the NBA He'd give me that opportunity to go. So I've always just felt like I want to enjoy college for the most part as long as I can. I love being here at the university. I love playing college basketball, meeting new people, having fun, just doing whatever I can to help other people out. College has definitely been something that I've always looked forward to going to, and also I've had fun being here. It's something that I didn't want to give up, that's why I came back. It's something I'm not sure if I want to give up because I love it so much."