UK trumpet students bring home top-4 award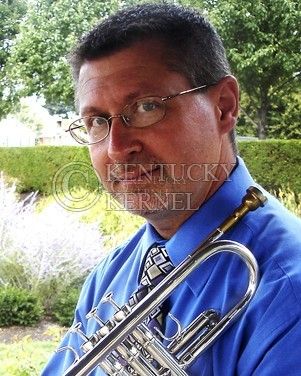 Five UK students made their way to a different kind of Final Four last week and left with an achievement of their own.
The UK Trumpet Quintet competed in the National Trumpet Competition in D.C. on March 14. Up against schools such as the Juilliard School of Music, the Eastman School and the Peabody Conservatory, UK brought home 4th place in the contest.
The UK quintet consisted of senior Andrew McGrannahan, senior Jas Lidyard, freshman Eric Millard, junior Don LaFleur and junior Ryan Bickett,
Since 2002, trumpet Professor Mark Clodfelter has led the UK Trumpet Ensemble to the competition four times, each time advancing to the semifinals with three trips to the final four and one first-place win.
"To consistently place in the finals in an event of this caliber puts us in an elite few schools who have done so," Clodfelter said. "It is quite literally our equivalent of the national championship…"
Clodfelter said the level of dedication  to compete on such a level is one that can be related to the same standards of UK athletics.
"The concentration required to perform a piece of this technical difficulty completely from memory at a consistently high level requires the same kind of peak performance training as an Olympic athlete," he said. "The performer is required to hone their motor skills to a surgical level while capturing the emotional content of the music …"
The UK School of Music is one of 10 designated Areas of Excellence within the university, Clodfelter said, applauding the consistent support from Ben Arnold, the director of the School of Music.
While many may not understand the prestige of the top-4 award, he said this accomplishment is worthy of recognition.
"It's likely that not everyone realizes that as artist faculty, our research is the performance of music, whether live or recorded, played or conducted, so for me this was like presenting a ground-breaking a paper at a national forum," Clodfelter said.
Celebrating student groups like the quintet is vital to the university, Clodfelter said, because of the need for a diverse and cultured education.
"As professors, we are here to provide a balanced education aimed at developing a sense of curiosity and a set of marketable skills," he said. "Any student group that serves this purpose is worthy of support and encouragement."