Volleyball aims to bounce back against Louisville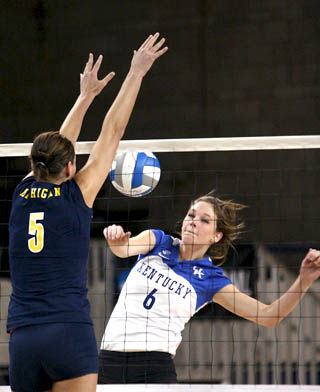 The UK volleyball team returns home for arguably the most important match of its young season against in-state rival Louisville Sept. 1.
The Cats (0-2) played in the Runza/AVCA Showcase last weekend in Omaha, Neb., and dropped both of their matches to top 10 opponents Nebraska and Iowa State.
UK continues to work toward its first win of 2010 as the team prepares for the Cardinals, a game the team has had circled on the schedule for quite some time.
"It is exciting," UK head coach Craig Skinner. "Louisville is always good, and I know the team is mature enough that we can start preparing right away for the match."
In Omaha, UK lost its season opener to No. 2 Nebraska in straight sets, 25-9, 25-14, 25-20. The next day the Cats took the court again, this time against No. 9 Iowa State. UK split the first two sets with the Cyclones before falling 25-17, 22-25, 25-22, 25-22 in four sets.
Having come up short in both matches, Coach Skinner saw both positives and negatives from his squad.
"Of course I am disappointed in losing," Skinner said. "But we also got better in areas we knew we would have to improve on. Our blocking and defense is way ahead of our offense, and we need to start scoring points in order to win matches."
Now, with Louisville coming to town, UK has focused all of its attention on the Cardinals, whom they lost to in Louisville last season in a thrilling five-set match that went right down to the wire. The loss was the first of UK's season, and the only non-conference loss of the 2009 season.
But as the rematch approaches, the Cats aren't focused on revenge.
"Last year has no impact on this year," said Skinner. "We have the same expectations for this match that we do every other match. Between the rivalry and this match being the home opener, we have plenty of motivation."
To defeat Louisville, the Cats will need big contributions from the entire team. Skinner would not single out any specific players that he felt needed to perform well against the Cardinals; instead, he designated that responsibility to all of the upperclassmen on his squad.
"They have been in these situations before," Skinner said. "I think the intensity will bring out the best in them, and we will need them to lead us on Wednesday."
UK expects an electric atmosphere Wednesday night for a rivalry game that decides bragging rights in the state of Kentucky for the next year.
"It's great to be back," Skinner said, "we should get a great crowd. It is definitely a great home court advantage."