Cats volleyball stumbles against Ole Miss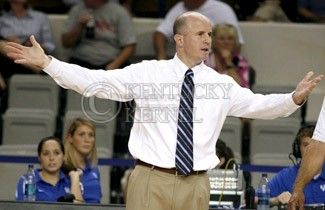 The UK volleyball team returned to Memorial Coliseum for the first time in over a week Sunday when they hosted the Ole Miss Rebels.
But home did not treat UK (8-8, 2-4 Southeastern Conference) too kindly, as they fell to the Rebels in straight sets 25-22, 25-20, 25-17.
"Disappointing is just not the word," freshman Alexandra Morgan said. "It's kind of embarrassing. We come out and draw a huge crowd and we were pumped about the game. We have played hard at times but we need to play hard all the time and be consistent."
Ole Miss (10-5, 4-2 SEC), came after UK early offensively, but the Cats matched the Rebels punch for punch, with both teams recording 41 kills apiece. Senior Lauren Rapp led the Cats with 17 kills in a losing effort, but no one else on UK's squad was able to record double-digit kills.
The Cats' kryptonite throughout the entire match was unforced errors. UK committed 9 service errors, and was called on a number of net violations as well.
"Mississippi always plays hard, they play aggressive and they always play hard and they always play great defense," UK head coach Craig Skinner said. "We gave them some easy points with some serving errors and hitting errors, and if you give them points they aren't going to give you much."
"In our recent practices we have gone back to the basics, working on serves and passes, stuff that we should be doing easily with our eyes closed," Morgan said. "We just need to focus on those things and bring them into the games, and we need to stay aggressive and have pride in our team. We know we are very good and we need to realize it and play like it."
Skinner employed a variety of different lineups in the match against the Rebels, with nine out of 12 players on the team receiving playing time. But he knows in order to maintain consistent play from his team throughout the rest of their conference schedule, that he will need to settle upon one lineup that can produce.
"I need to find a lineup and stick with it, I need to find people who can do can do what's asked of them day in and day out," Skinner said. "People need to step up and make a difference. They need to make a play when plays need to be made, and the intensity level needs to increase. We need to find six players on the court who are ready to compete."
The match against Ole Miss was also UK's annual "Dig for the Cure" match to spread breast cancer awareness as well as honor those who have survived breast cancer. All proceeds from the match were donated to the Markey Cancer Center to fund breast cancer treatment, research and education.
"Hopefully you can do a little something to add to the cause, I think we do," Skinner said. "You always want it to be as much as possible, but anything we can do and other programs around the country can do is always positive."