The top 100 college basketball players, according to Basketball Prospectus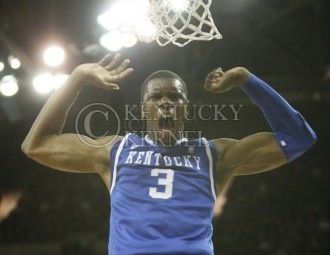 As part of the off-season, we like to list things. Rank things. Put things in order. Basketball Prospectus recently attempted to rank the Top 100 players in college basketball for this year, and of course, some UK players made an appearance.
Now, I'm not saying the author, Drew Cannon, is an expert and his ranking is correct. He's not saying it, either. Nor am I saying that his rankings are outrageously absurd and we should take offense to them. I simply want to share this ambitious project. Not many analysts try to rank college players by position any more than 10 spots out, much less take the top 100 from every team and every position.
His approach to the ranking was unique — he created a tiered formula for ranking players into groups, had ESPN analyst Dave Telep give input on who he thought was the best and worst out of each group, pitted similar players against each other in hypothetical questions to NBA personnel at Draft camps, and then made a giant bracket to create a ranking. Here's how the rankings shook out.
No. 62 — Marquis Teague
Quote: "Teague's not a real shooting threat and his decision-making has been questioned, but he seems like such a can't-miss scorer that I still feel comfortable putting him this high."
Players in front of him: J'Covan Brown (Texas), Drew Gordon (New Mexico), Joe Jackson (Memphis)
Nearest players to him at same position (point guard): Kendall Marshall, North Carolina (No. 70), Terrell Stoglin, Maryland (No. 63), Joe Jackson, Memphis (No. 59), Carl Jones, St. Joseph's (No. 55), Malcolm Grant, Miami (No. 54)
No. 42 — Doron Lamb
Quote: Lamb will be "the Wildcats' fourth offensive option. He'll just be the best one of those in the country."
Players in front of him: Trent Lockett (Arizona State), Darius Johnson-Odom (Marquette), Dee Bost (Mississippi State)
Nearest players to him from same position (guard): Johnson-Odom, Bost, Williams Buford (Ohio State, No. 38)
No. 29 — Michael Kidd-Gilchrist
Quote: "His combination of terrifying athleticism and unwavering competitiveness is exceedingly rare. Both tools are elite, separately."
Players in front of him: Marcus Denmon (Missouri), Kyle Weems (Missouri State), Kenny Boynton (Florida).
Nearest players to him from same position (forward): John Shurna (Northwestern, No. 34), Weems (No. 27), DeShaun Thomas (Ohio State, No. 24)
No. 21 — Anthony Davis
Quote: "I've seen him on teams with less talent than the 2012 Kentucky Wildcats will have, and on those teams he's been forgotten on offense for long stretches."
Players in front of him: Arsalan Kazemi (Rice), Jeffery Taylor (Vanderbilt), Perry Jones (Baylor)
Nearest players to him from same position (forward): Tony Mitchell (Alabama, No. 22), Kazemi
No. 4 — Terrence Jones
Quote: "His shooting percentages last year were just 47/33/65; if he lives up to this billing it'll be because those numbers improve. … Defenses won't be able to key in on Jones like they could last year. With a little more help and slightly smarter shot selection, he should be SEC Player of the Year."
Players in front of him: Jordan Taylor (Wisconsin), Harrison Barnes (North Carolina), Jared Sullinger (Ohio State)
Nearest players to him from same position (forward): JaMychal Green (Alabama, No. 6)
So now, thoughts. Cannon doesn't like freshmen — "Overrated? Every freshman above 25 on my Top 100 list," he writes — which automatically  makes UK's rankings lower than most would probably have them. I think the order of the UK players is probably right, although Davis and Jones should be closer together. Darius Miller probably deserved a spot in the upper regions of the rankings. And man, does Cannon like Jones. He brings up a couple good points, which will become major talking points as the season gets nearer: does the increased talent around Jones help his productivity — and if so, how much? Jones did mention multiple times near the end of last season, just as his numbers were declining, that teams were focusing on him and that his adjustment had to be getting the rest of the team involved more.
You can read the full rankings here.