John Calipari envisions UK as a national title contender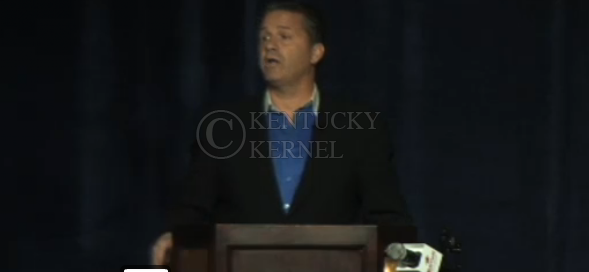 John Calipari couldn't really help himself.
Speaking at the Kentucky Tip-Off Luncheon in Louisville Wednesday, the UK head coach said that, while he typically doesn't "make any promises" about his team, he does envision them being national title contenders.
"My vision is, at the end of the year, we'll be one of those teams up at bat slugging it for the whole thing," Calipari said, according to the Louisville Courier-Journal's live stream of the event. "That's where we'll be. I'm convinced of that because the more I'm around these young (players), the more I'm convinced they really want this."
Winning a title isn't the only place Calipari wants his team to succeed. He listed his goals of having the highest team grade-point average and highest APR in the country on the academic side, and winning a championship and having "six guys drafted" on the athletic side.
"Why don't we think like kings?" Calipari said.
Calipari labeled this motive "The Kentucky Effect." He discussed this same concept multiple times last season, but it's the official slogan for this season now, plastered on the team yearbook.
"This is a players-first program," Calipari said. "It is about those young people. I would be disappointed if we win a national title and no one's drafted. I would be disappointed. This is about those young people. This is about helping them reach their dreams. This is about them dragging us to moments that last a lifetime. Not us dragging them."
The team Calipari has is, in his own words, "unconventional." But he's seen significant improvement from the veterans and enough from the freshmen to know how good they can be. He said he has "six, maybe seven starters," and that former UK coach Joe B. Hall told him it was his "best collection of players you've had since you've been here."
Judging from Calipari's own appraisal of his roster, he might agree.
Calipari on Terrence Jones: "He's finishing first in all the runs we do. … You can see, the light went on. He's chasing this. He wants to be special."
On Michael Kidd-Gilchrist: "If you thought DeAndre played hard and slashed, wait until you see this man."
On Marquis Teague: "When I talk to him, he is so zeroed in on me. Whatever I say, he does. He wants to be coached."
On Kyle Wiltjer: "Kevin Durant came up to me and said, 'That kid can play.'"
Calipari said Big Blue Madness would instill a "sense of responsibility" in the players because they would see how much the fans care about them. In addition, having former UK players — including Nazr Mohammed and his Oklahoma City Thunder teammates — come back to campus showed why the program matters so much.
It's all part of "The Kentucky Effect." And if it's any indication, Calipari expects it all to circle around where it matters — on the court.
"It not only affects the outcome," Calipari said. "It affects how you perform and how you practice and how you prepare — which affects the outcome."