The week 12 Edge: UK vs. Georgia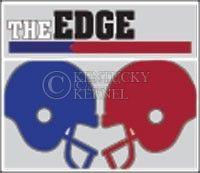 UK quarterback Maxwell Smith vs. Georgia's 3-4 defense
Similar to UK defensive coordinator Rick Minter's 3-3-5 defensive scheme geared toward creating turnovers and presenting opposing offenses with many different looks, the Bulldogs run a fierce 3-4 defense that has stymied SEC offenses all year long. Led by linebackers Jarvis Jones, the SEC leader in sacks, and Alec Ogletree, the Georgia defense ranks 12th in the nation in opponents points per game, allowing just 18.6 on the year.
UK freshman quarterback Maxwell Smith has seen his fair share of menacing SEC defenses this year, especially in back-to-back appearances against No. 1 LSU and No. 12 South Carolina, and knows what he will be up against Saturday. But if Smith's performances in those games (a combined 1-9 passing for 9 yards and two interceptions) are any indication of how he will handle a tough Bulldogs defense Saturday, senior punter Ryan Tydlacka should see extensive work once again.
Edge: The Edge goes to the Georgia defense. The Cats' young signal-caller has shown flashes of ability that provide the commonwealth with hope for the future of its football program, but in only his third career start he is still not prepared to lead the Cats' offense to a big day. An inconsistent offensive line will do Smith no favors, as Jones, Ogletree and the rest of the Bulldogs' defense will cause chaos up front.
Georgia running backs Isaiah Crowell and Carlton Thomas vs. UK linebackers Danny Trevathan and Winston Guy
In last season's matchup between these two teams, former Georgia running back Washaun Ealey rushed for more than 150 yards and five touchdowns in Commonwealth Stadium. Last week, on the road at Vanderbilt, Commodores running back Zac Stacy put up 135 yards and three touchdowns of his own on the Cats' defense. But the combination of Crowell and Thomas may be more deadly than either of the aforementioned backs.
Crowell leads the Bulldogs this season with 821 yards (4.8 per carry) and five touchdowns, while Thomas has emerged into the offense as the season has progressed, racking up an additional 327 yards (5.5 per carry) and two touchdowns.
It will be up to UK's dynamic duo on defense, Trevathan and Guy, to stop the running game in its tracks. Once a back is through the first layer of the defense, few defenders on the Cats' roster have managed to make plays. Trevathan and Guy will have to be able to cover from sideline to sideline and maintain their stamina for not just one explosive running back, but two.
Edge: Crowell and Thomas. As previously mentioned, the UK offense shows little promise to find rhythm against the Bulldogs' physical defense, meaning the defense is likely to spend most of the afternoon on the field. Couple that with the depth advantage Georgia has in its backfield and you have the recipe to exhaust Trevathan and Guy in the second half.
Overall Edge: Georgia. The Bulldogs are more talented than UK on both offense and defense and will be looking to prove it Saturday. With a spot in the SEC title game on the line, it is unlikely Georgia will be looking past the Cats this week. Saturday's showdown also marks the final home game in the careers of Georgia's seniors, creating an emotional atmosphere that the Cats will not be able to handle. Expect UK to be eliminated from bowl contention.