Nerlens Noel, Shabazz Muhammad decisions crucial to next year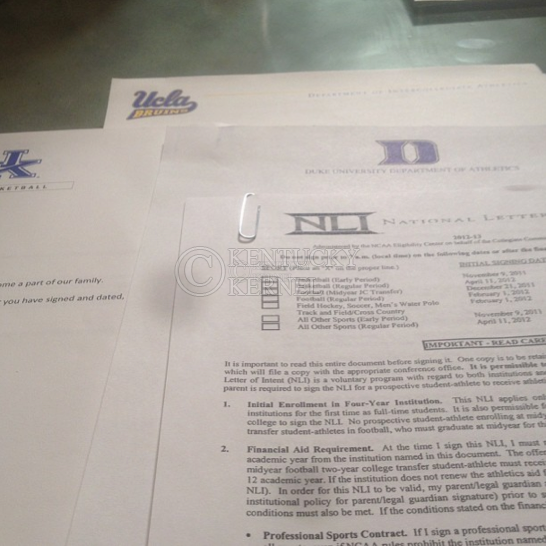 Wednesday is one of the most important days for UK's 2012-13 season.
The top two recruits in the class of 2012, center Nerlens Noel and guard Shabazz Muhammad, will announce their college decisions on an ESPNU signing day show at 7:30 p.m.
Both have UK among their list of final three schools. Noel, who many consider as good a shot-blocker as Anthony Davis, is also considering Syracuse and Georgetown.
Muhammad, an elite scorer with an intensity everyone raves about, is also considering UCLA and Duke.
Get one, and UK is set up nicely for next year. Got none, and the potential roster starts looking thin. Get both, and UK becomes the national title favorites — again.
Where will they go? That's what everyone's trying to figure out, but these two players have kept their decisions so concealed we likely won't know until the announcement is made on TV.
Noel, for his part, wrote in his ESPN blog Tuesday that he hadn't actually decided yet, despite being 24 hours away from having to make a commitment. He said he would see where he's most comfortable with going. And, in his own words, here's his breakdown of the three schools from the ESPN blog:
"I look at Syracuse and I love the way that the coaches say they'll use me in their offense. I really like the family atmosphere there and I feel really comfortable there. Syracuse has been on me the longest of all three schools and that is big for me.
"Then you've got Georgetown, and I really just like everything about them. When I went down there with my mom, it really opened my eyes to what they were all about. I have to factor in what a school like that can do for me, even away from being a basketball player. It's just a great school and they have a history of developing big men. Georgetown is definitely a great option for me.
"Then there's Kentucky.
"Of course they're coming off the national championship, but I'd look more at how I'd be able to fit in and how I'd be used there. I'd factor in what my role would be offensively, like Anthony Davis with a lot of lobs and catching it at the high post and things like that. Defensively, I think it'll take care of itself."
The consensus is that Noel will go to UK. In an ESPN poll of fellow high school seniors on Monday, 10 of the 12 predicted Noel would go to UK. In a poll of ESPN recruiting experts on Tuesday, six of the seven predicted he would go to UK.
Of course, Noel denied having made up his mind and wrote that these predictors were "sleeping pretty hard on the other schools. … I have 100 percent not made any decision yet because I really don't know."
Muhammad doesn't have a personal blog to get inside his mind. The consensus is — well, there's none.
In that ESPN player poll, UK and UCLA received five votes each, while in the expert's poll, UCLA received four votes to UK's three. It seems to be a pretty even split — does he go to the Bruins, hoping to lead a resurrection of the program and be the clear alpha dog there, or does he choose the Cats and have the best shot at a title but have to fit in with multiple other talented players?
We don't know now. We will Wednesday. And then we'll know a lot more about what to expect next year.