The Edge: UK vs. Miami (Ohio)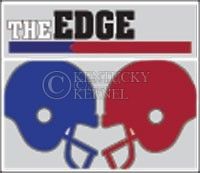 By Alex Forkner | Football Columnist
UK's passing game vs. Miami's secondary
Fans expecting to see the glorious return of the "Air Raid" offense last week against Western Kentucky University instead saw a big flashing sign reading, "Under Construction."
With sophomore Jalen Whitlow at quarterback, the only successful offense came on the ground. Sophomore quarterback Maxwell Smith offered a glimpse of what Cats offensive coordinator Neal Brown likes to do, completing 8-of-13 passes for 125 yards and a touchdown. Now with Smith in from the starting gun, expect a more successful aerial attack.
Against Marshall last week, Miami University (Ohio) gave up 287 yards passing and five touchdowns. Nine different Thundering Herd wide receivers recorded a catch. The Cats should treat this game as an opportunity to get things in order. Expect wide receivers like freshman Ryan Timmons, freshman Alex Montgomery and junior Javess Blue to make the first major impact of their careers. And maybe UK can start to figure out how to use its stable of tight ends.
As for Smith, this is his chance to make the job his for good. A 300-yard, multiple touchdown game would go a long way in cementing his status as starter.
Edge: UK
Commonwealth crowd vs. Miami's composure
Even though the season started with a whimper, fans will likely show up for Mark Stoops' first game at Commonwealth Stadium, at least if those resurgent season ticket sales are any indication.
But just because the fans are in the stands doesn't mean they'll be loud. Cats fans had Hilltopper fans solidly outnumbered, but their voices were stolen by a stagnant offense and porous defense. If UK's offense gets off to a faster start and the defense starts stacking stops, then Cats fans might engage in some cathartic cacophony. After all, they haven't done a lot of cheering at Commonwealth in quite some time.
And on their trip to Marshall last week, in front of a crowd of only 27,148, the RedHawks were rocked by a score of 52-14. UK fans could — and should — double that attendance number. The Cats might just replicate that score.
Edge: UK
Overall Edge: UK
The Cats probably wanted to take a forget-me-now last weekend, but putting together a nice performance and a comfortable victory will go a long way toward righting the proverbial ship. And they better swab the deck and mend the sails because a storm named Bridgewater blows into town next week.