UK professor's book explores Lexington's food service history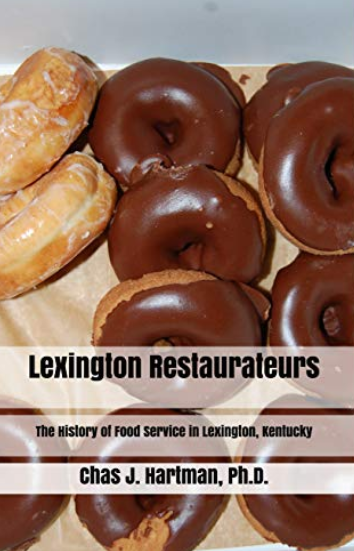 Want to know more about the food service industry and restaurant scene in one of the Bluegrass region's biggest cities? Bite into Chas Hartman's newest book, "Lexington Restaurateurs: The History of Food Service in Lexington, Kentucky."
Published in late November 2018, Dr. Chas Hartman's book covers two centuries of food-related history in Lexington.
"I've been interested in Lexington's history for a long time. Rather than write an overview of Lexington's entire history, which has already been done, I decided to explore a specific industry," Hartman said. "Lexington is very well known for its food service industry, and I know a lot of people who are involved in it."
Hartman's book documents the history of the food service industry in the city that has birthed such restaurant chains as long Long John Silver's, Fazoli's, Logan's Roadhouse and Goodfellas Pizzeria.
"Lexington first became a testing ground for national restaurant chains decades ago, and multiple restaurant chains first started here. Really, Lexington's food service industry started more than 200 years ago," Hartman said. "By reading this book, people will learn so much about historical events that really shaped the development of the food service industry."
While the Lexington food scene has changed, many restaurant staples remain as a sign of the times and of culinary influence. The Parkette is one of those restaurants that has seen its own evolution, surviving a closing and being revived with a reopening, exemplifying the city's changing restaurant scene.
A staple of Lexington since 1951, the Parkette maintains the authenticity of a '50s dinner, even in 2019. This piece of Lexington restaurant history has been celebrated by a number of television programs, including its most recent inclusion in a German reality show titled Job Swap, where a pair of restaurant employees from Germany swapped with two Parkette employees for several days.
Hartman explores timeless restaurants like the Parkette and food developments of the last 200 years in Lexington in his book. He gives readers a comprehensive time line of Lexington's food service industry and restaurants, which took three years of detailed research to develop.
"That involved spending several hours at multiple libraries on campus, reading through history books and looking at microfilm of newspapers from over a hundred years ago," he said.
Hartman said he also spent hours interviewing people for the book, exploring information on the internet and looking through old city directories at the downtown public library. Many of the research and interview skills involved were similar to those that he had learned to utilize in his previous career as a reporter.
Hartman is a current senior lecturer at UK, where he received his Ph.D. in Communication. He has taught a number of communication and information, information communication technology and journalism courses.
His most recent book comes after several other books published by Hartman in recent years: "Our Mothers' Stories, "Daughter of a Park Ranger" and "Bugs: A WWII Veteran's Life of Adventure."
Readers, whether they are wanting to learn more about the restaurant history of the city or if they just like food, should expect to learn more about how the city became one of the most popular testing locations for restaurants.
"Readers will also get to know some very inspiring people who have really made their impact on the city's restaurant scene," Hartman said. "Readers will also learn about all of the challenge's restaurant owners face every day."
"Lexington Restaurateurs: The History of Food Service in Lexington, Kentucky" is available for purchase on Amazon.com as a paperback, both new and used, or Kindle e-version.