UK alumna, Louisville native wins Donald Hall Prize for Poetry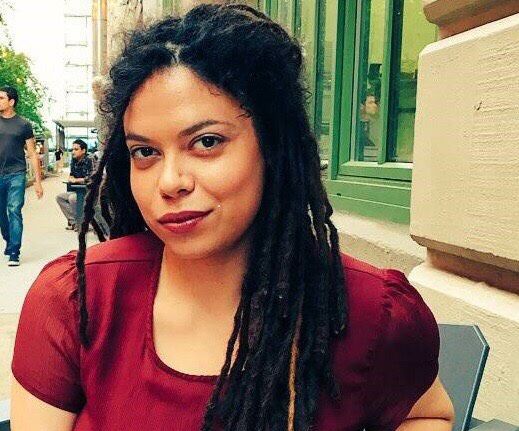 Joy Priest had a folder full of poems but didn't know she could be a poet. 
Priest had been a writer for as long as she could remember, but as an undergraduate student at UK, she hadn't yet thought of poet as a career option. 
Now, seven years after graduating from UK and just a few months after graduating with her MFA in poetry from the University of South Carolina, Priest has won the Donald Hall Prize for Poetry for her manuscript, Horsepower. 
The prize, part of the Association of Writers & Writing Programs awards series, comes with $5,500 and publication by the University of Pittsburgh Press. There were 853 entries this year. 
Priest's hometown of Louisville has a strong influence on her manuscript. Priest spent several years of her childhood living right across from Churchill Downs; she also attended church in West End and high school at Central High School, the predominantly black school that Muhammad Ali attended. 
READ: Joy Priest's work on her website
Horsepower is a collection of poems that Priest worked on for about 10 years, then curated to form a narrative arc. The speaker of the poem (the term for the voice behind a poem, separate from the author) is a black girl with a white mother, Priest said. For the first years of her life, she lives with her white mother and her racist grandfather.
"So the book is dealing a lot with American history, race in America…" Priest said. "What it means to be black, to live with white parents, to grow up in a working class white area."
Like Priest, the speaker lives near the racetrack, and it affects her and the community in which she grows up. 
Later, though, the speaker moves to a predominantly black area of Louisville, so she has the experience of "being embedded in both of those communities." Priest described the collection of poems as an escape narrative.
Priest said she's still practicing how to describe her book to others— "now that's it's actually a thing in the world." She just heard from AWP about the award last week and hasn't had a chance to speak with the press yet, so she's not sure what might change between now and whenever the book is published. 
Poets don't have agents the way novelists often do, so winning prizes is very important for poets, Priest said. There are 10 to 15 significant prizes that poets send their work to; some are for emerging writers and some are for writers at any stage of their career. 
Priest wasn't shortlisted for the first prize she heard back from; the second she heard from was the Donald Hall Prize for Poetry. 
She said it's "shocking" for her to have won this because it was open to anyone, not just new poets. 
"So it was really such a big deal and an honor," Priest said. 
The judge was former U.S. Poet Laureate and Pulitzer Prize winner Natasha D. Trethewey. Priest doesn't know Trethewey personally, but she knows and loves her work. 
"You know how you just have a person that everything they write is so important to you?" Priest said. "She's been that person for me." 
Trethewey is also mixed race and often writes about American history and politics and racial taxonomy, Priest said. 
"I really look up to her work, and I thought, 'Wow, this might be the person to see me, who sees my work and thinks it's important,'" Priest said. "So that almost makes it such a big deal that she chose the book." 
Another mentor of Priest's is Nikky Finney, whom Priest met as an undergraduate when Finney was an English professor at UK. Now both women are at the University of South Carolina. 
Priest was features editor at the Kentucky Kernel when Finney was shortlisted for the National Book Award. Priest wanted this news in the paper, so she watched live as Finney was named the winner. 
READ: Joy Priest's 2011 Kernel story about Nikky Finney's win
Around the same time, Priest served as president of the National Association of Black Journalists, with professor and poet Frank X Walker as one of the faculty adviser. When she told him she wrote poetry, he offered to read some of it. Priest said she didn't think he really would, but he did, and offered her good feedback: You have something to say, but take some craft classes. 
The next semester, Priest took Walker's Intro to Creative Writing class and Finney's Intro to Fiction class. 
Priest is a member of the Affrilachian Poets, a group for poets of color living in Appalachia. Walker, a leader of the poets, said the group was proud to offer membership to Priest. 
"I am so proud of Joy and the attention her work is rightfully getting," he said. 
Priest said the Affrilachian Poets are part of Kentucky's "huge, huge writing legacy." Some might not realize how many distinguished writers come from Kentucky, but Priest said that's due to a lack of media or cultural emphasis on writers rather than a lack of talented writers. 
Kentuckian Robert Penn Warren, for example, was the first U.S. Poet Laureate. Ada Limón, a California native who now lives in Kentucky, influenced Priest because Limón's work showed her that people read and like good poems about horses.  
"I keep on wanting to name people…" Priest said. "But I think that writing and literature in Kentucky is as characteristic of Kentucky as bourbon or horse racing thoroughbreds or basketball." 
Priest will read from her work at the Wild Fig bookstore on N. Limestone at 8 p.m. on Friday, July 19.