Being in college marks a time of excitement, more-than-occasional stress and figuring out where life will lead you after you toss your cap in the air at graduation. 
Though for 40% of University of Kentucky students, a larger issue they experience — aside from stressing out about exams — is some degree of food insecurity, according to Andrew Perkins, the program coordinator for Big Blue Pantry. 
If a student finds themselves in a situation where figuring out where the next meal will come from, there is a campus resource willing to lend a hand.  
The Big Blue Pantry is an on-campus food bank for students, which was founded to help relieve students of food worries. 
Once located in Room 025 in White Hall Classroom Building, the pantry relocated to Room 016 in Frazee Hall in Nov. 2023. A variety of factors contributed to the move, Perkins said, including the new space's greater capacity for food storage, a university goal to put more student success programs in a centralized location and upcoming construction in White Hall. 
"This new space is certainly a more open, social space, and we hope it is seen by the students as a welcoming environment they can visit if needed," Perkins said.
The pantry welcomes all students with its many shelves of non-perishable food and hygiene products as well as fridges stocked with milk and other cold meals. All enrolled UK students are allocated one trip per week, Perkins said, and are encouraged to fill a reusable bag with any items the pantry offers, such as bread, rice, pasta, shampoo and body wash.
"We have worked to expand our outreach both on campus and in the community. We are just for UK students, but we have expanded community partnerships and different organizations that we can work with that will donate to us or send us volunteers," Perkins said.
The pantry has recently expanded their partnerships with other non-profits and companies such as Kroger, Maxwell Street Presbyterian Church and God's Pantry, a community based food bank in Lexington, to assist in keeping shelves stocked for students. These partners donate food and volunteers to help out around the pantry, Perkins said. 
"Last academic year, we were visited over 2,750 times by 801 students," Perkins said. "Helping 801 students over the year is very taxing on our resources. However, we are not meant to be a students primary source of food, or of course not their only sources. We are meant to be a supplement with other campus resources that can help someone who is experiencing hardship."
School-related stress and anxiety can already be taxing to students as exams and homework eat away at free time students may have, but a lack of food resources can have an impact on students' ability to do well on schoolwork and tests, Perkins said.
"Food insecurity absolutely affects mental health. It affects your performance. It affects your daily life, that's why we call it a basic need," Perkins said. "25% of undergraduates admitted to the University of Kentucky come from households with an income of $25,000 or less."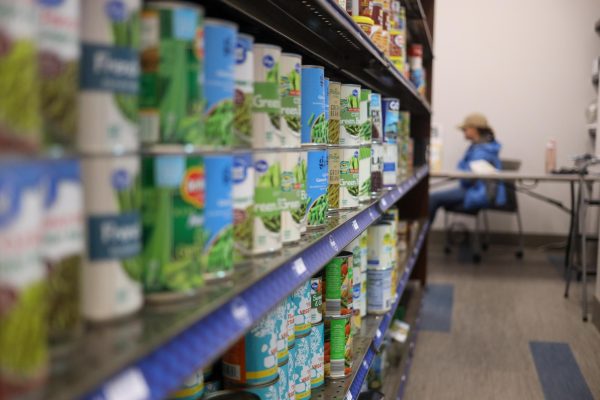 Students are also required to fill out a brief digital — and confidential — survey when they are done collecting their items at the pantry, Perkins said. Student ID numbers are attached to the survey responses to review and see if the reasons for which students visit the pantry are concerning, like an unsafe living environment or financial instability.
"The amount of diversity and all different types of students who come in here," is something Ally Schreckenhofer, a senior student worker for Big Blue Pantry, said she notices during her shifts. 
"Some of them, you know, I'll see once every while and some come in three times a week. There's a lot of variation, and the severity of each situation differs from the next," she said.
While students are not encouraged to use the Big Blue Pantry as a grocery store substitute, Perkins said, the pantry should still be an outlet they seek out to receive the help they may need.
"We have a policy that we are asking folks to limit their visits to the Big Blue Pantry to three times per month at maximum," Perkins said. "If someone expresses a need for visiting more often than that, then we ask them to set up an appointment and talk with me or my graduate assistant, or perhaps one of my colleagues in track with the Counseling Center."
In addition to accepting donations from local partners, the pantry is also stocked with the help of UK's Donations for Citations program, in which individuals can waive lingering parking ticket fees with either ten food items or five personal care items.
As a supplemental resource, the collaborative nature of the pantry's relationships with other campus and city organizations bolsters its ability to "help someone who is experiencing hardship transition out of that," Perkins said.
"It is important that the appropriate university resources are allocated in such a way that the population of students don't have to worry about these basic essentials while pursuing their success at UK," he said.