No. 19 Kentucky volleyball (2-4) played two matches at Holloway Gymnasium in West Lafayette, Indiana, over the weekend, defeating No. 21 Houston on Friday and falling to No. 20 Purdue on Saturday.
The match against Houston on Friday was decided in four sets with scores of 25-21, 18-25, 25-17 and 25-22.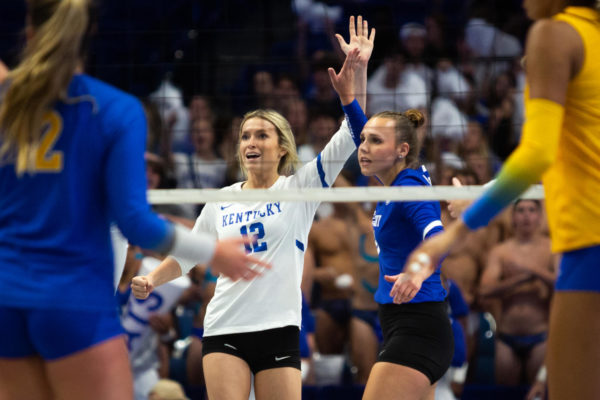 Kentucky excelled in the set one, keeping a comfortable lead over the Cougars before a kill by freshman Brooklyn DeLeye clinched the set.
The second set saw the opposite occur as Houston led for most of the set and eventually tied the match on a first-ball kill.
Afterward, the match was pretty much all Kentucky with the Wildcats taking the last two sets and winning the match on a service ace by junior Emma Grome.
Grome recorded 45 assists during the match while DeLeye and senior Elise Goetzinger tied for the team lead in kills with 13 each.
Senior Reagan Rutherford and sophomore Audrey Whitworth also shined against the Cougars, each recording three service aces and 19 and 10 digs respectively. 
After defeating Houston, Kentucky was scheduled to play the winner of a match between Purdue and SMU, and Purdue's four-set victory set up another top 25 showdown to occur the following day.
The first set was relatively close, with the score being 24-21 in favor of Purdue at set point. The Wildcats recorded two straight kills to come within one point of the lead, but the Boilermakers came out of a timeout and got the last point needed to win the set.
Kentucky then made a great comeback effort and led for most of the second set before a kill by junior Megan Wilson clinched the set, which ended with a score of 25-19.
Following a 25-22 loss in a close third set, the Wildcats dominated in set four, finishing with a score of 25-12 and forcing a deciding set for the first time on the season.
The fifth set was a rollercoaster for both teams, remaining within one or two points for the majority of the time. The lead changed six times in the final set, but Purdue was the one to survive, winning 18-16 and therefore taking the match.
Wilson led the Wildcats in kills with 16 while four other team members recorded double-digit kill totals.
Grome tallied 56 assists and one service ace, and junior Eleanor Beavin led the team in digs with 21.
Kentucky will travel to the KFC Yum! Center to face No. 2 Louisville on Wednesday, Sept. 13, at 8 p.m. ET. The game will be televised nationally on ESPN.