WRFL, the University of Kentucky's student-run radio station, partnered with music stores CD Central and The Album on Monday, Sept. 4 to present Slimestone.
The event serves as a way for students to visit local stores, enjoy live music and become familiar with WRFL.
Their hope is to get students involved with the radio station and spread the word on campus, said Jaclyn Okorley, a senior psychology major and WRFL's library director.
"We have signup sheets so people can learn more about how to become a DJ, so that definitely helps people learn more about WRFL … and also if you're going around wearing a WRFL shirt, someone might ask about it," Okorley said.
The event began in the Cat's Den, located downstairs in the Gatton Student Center, where students were given a sheet with the names of places to visit. This included the Cat's Den, WRFL, CD Central and The Album.
Students were directed to WRFL's station first, which is located by the exit of the Cat's Den.
Once they visited each location and had their sheet punched or signed, they returned to the Cat's Den to receive a free WRFL Slimestone shirt.
"I think my friend told me about it, it was word of mouth sort of thing, and he told me he'd done it the previous year, so I looked it up on BBNvolved," said Alycie Caya, a junior foreign language and international economics major.
Students with punch card sheets in their hand were seen walking up and down South Limestone, stopping in The Album to browse the music and CD Central to listen to local artists Fredd C and Sympathy Jar.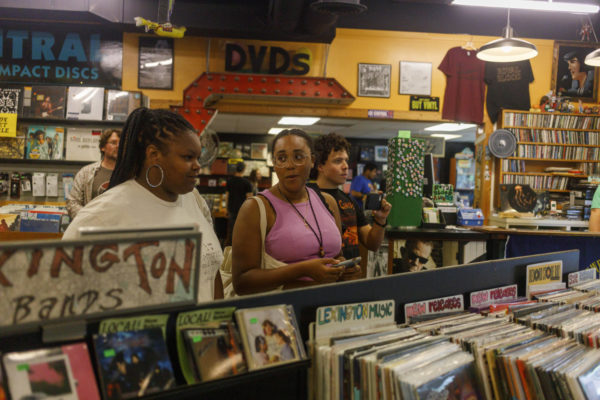 Abigail Brannon, a senior writing, rhetoric and digital studies major, is the production director for WRFL, where she sets up band equipment and produces audio and visual content for the station.
"I hope there's just people walking around, and they just stumble in, because I feel like CD Central and The Album are big parts of where we are right now," Brannon said.
South Limestone being part of north campus means students are constantly walking along the street, making Slimestone an opportunity for new students to explore the businesses nearby and gain information on WRFL and what they do.
Okorley said many people in her classes don't know what WRFL is and wishes more students on campus did. She said this event is one of their bigger events and is great publicity for the station.
"It makes me sad because I just love local culture and so I think it's so cool that our school has that, because not every school has a local radio station," Caya said.