'The aspect of being seen is all it takes to start.' MLK Center hosts discussion of inclusivity for Women's History Month
The Martin Luther King Center partnered with Underground Perspective and the Office of LGBTQ* Resources to host influencer Lynae Vanee as part of a series celebrating Women's History Month.
Vanee's event on March 23 wrapped up a month of events put on by the MLK Center and campus partners centering around women's history.
Originally from Atlanta, Vanee utilizes her platform to discuss topics like feminism, race, inclusivity and politics. Her videos have attracted over 50 million views and have gained the engagement of celebrities, top brands and the public.
"I get in my parking lot, and I keep it Black, and I keep it brief. (I) essentially orient what's going on in the world through a lens of Blackness and inclusivity and also feminist thought," Vanee said.
Vanee originally started on YouTube but soon decided to take a different approach, turning to Instagram to publish her videos.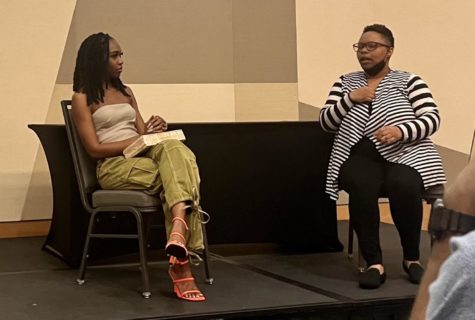 "I actually started on YouTube, and I had to stop after like two videos because it's hard to develop," she said.
She said she learned how to draw in viewers by watching other creators' content on the app.
Vanee's social media reach is international. She utilizes TikTok and Twitter to get her content across how she wants. Vanee said she takes her approach from Thomas Paine's "Common Sense," using the pamphlet's main ideas to shape her content so that anyone can understand it.
In addition to her videos on social media, Vanee is a two-time NAACP Award winner who boasts many other titles such as a poet, influencer, writer and actress.
As her platform continues to grow, she is now recognized in public and has begun to see the effects of her work. She said people often come to her bearing a load, crying or asking for a picture, but most of all they thank her for "seeing" them.
"I am still seeing the beginning stages of my work and how it's actually affecting people, because I started during the pandemic," Vanee said. "I see a lot of emotional relief in Black women in particular and Black queer folk in particular."
K Lane, a staff member of the MLK Center who attended the event, left feeling empowered.
"Being in the LGBTQ community, I don't get that much support as a Black man – which I don't understand because we are Black history too. It hurts my heart," Lane said. "Hearing her talk about everything that goes on in the Black community, felt really empowering to listen to."
Vanee found a commonality in her audience's testimonies. She expressed the importance of minorities being seen.
"This aspect of 'feeling seen' is really all it takes to start. And when people do feel safe is when I get the testimonies of 'This is something I did differently at work' or 'This is always something I have wanted to talk about, and I went for it,'" Vanee said.
Ruth Gonzalez Jimenez, UK's Latinx Student Community Specialist at the MLK Cultural Center, said the Center was excited to celebrate Women's History Month.
"We really appreciated that Lynae honed in on, again, the spectrum of womanhood that is infinite – the bounds of womanhood don't exist," Gonzalez Jimenez said.
The MLK Center will host one last event next week for Women's History Month, the Annual Coretta Scott King dinner, on Tuesday, March 28.