UK's student radio station celebrates 35 years on air
The University of Kentucky's student-run radio station, WRFL 88.1, held a "birthday bash" on March 11, at the Burl, to celebrate its 35th anniversary.
Saturday night featured musical performances by Soccer Mommy, The Dreaded Laramie and R.O.D. Tickets for the event sold out by Feb. 16.
WRFL began broadcasting on March 7, 1988. They are primarily operated by volunteer DJs, which consist of mostly UK students and other campus community members. According to the station's mission statement, they strictly play "alternative" music or works that cannot be heard on mainstream stations.
"I like that (the music) is very diverse," said Megan Saxey, a regular listener of WRFL. "It's very eclectic. It reflects the tastes of people in the city."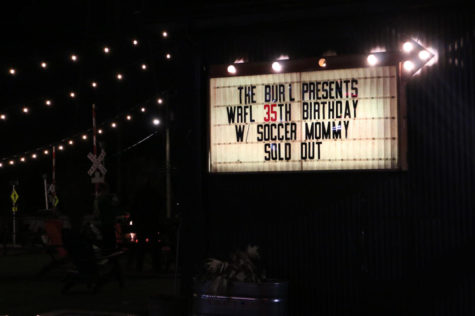 WRFL has been broadcasting 24 hours a day for almost 35 years straight, minus a few instances of power loss or technical difficulties. The majority of their programming is in two-hour increments. 
During the height of the COVID-19 pandemic, WRFL had to shift to pre-recorded programs.
"We're now getting back into the swing of being full-time, in-person again, getting to do live shows like this again, and really getting to experience that spirit of just having the community in and around all the time," WRFL Assistant Director Mary Clark said.
WRFL is heavily involved in both the University of Kentucky and Lexington communities. They host a variety of events at local venues, such as the Burl and the Lyric Theatre. 
The station hosts recurring weekly events including trivia and karaoke, according to their events calendar.
Community involvement is a significant part of WRFL's mission. Not only is the music played on air diverse but so too are their members. 
UK students of any major can apply, along with faculty, staff and other members of the Lexington community.
"I think that (the staff's diversity) makes it all the better to have the diversity that we do amongst the students," said Lauren King, administrative assistant services with the Office of Student Organizations and Activities. "It makes it … almost more holistic. Every perspective just makes the indecisions just that much better and that much more purposeful for the rest of the campus."
WRFL's website said its "programming is made possible in part by our underwriters." Their underwriters include a wide variety of local businesses, such as Bourbon 'N Toulouse and SQecial Media.
"WRFL is a beacon for the alternative in the community and also just one of the biggest supporters of everything local," Clark said.