'A catalyst for conversation.' Student-led musical tackles mental health through song
Most students graduate high school with a sense of freedom, never looking back. 
Devin Landis, however, utilized the insight and observations he gained throughout his high school experience to serve as the foundation for "Lucidity: A New Musical," which was student-led and written by Landis. 
The first "Lucidity: A New Musical" performance occurred on Feb. 28 at Briggs Theatre, while the second was held on March 3 at the Lexington Children's Theatre.
Landis, a junior majoring in arts administration and theater at the University of Kentucky, said he became interested in musicals during high school. He wrote his first show as a freshman.
"I was really into musical theater. I really delved into the scenes and started participating in community theater and regional theater," Landis said. "I was also really active in the show choir and my high school's choir as well. I liked the idea of combining all of it together into musical theater."
The idea for "Lucidity" first arose in 2019. Landis said he began writing the script then and collaborating with Aaron Soltis, the composer for the show. Soltis currently studies music composition at Nazareth College. 
"We worked on a couple (of) songs in 2019, but once the pandemic hit and we went to college, it was difficult to be able to put this show together," Landis said. 
However, as time passed and the two moved on to college, they got more time to work on the musical and reconvened.
Landis and Soltis soon found themselves, once again, brushing the dust off their project and beginning afresh.
"Six months ago, I reached out to (Soltis) again, and we collaborated and finished the show," Landis said. 
After Landis placed the final period upon his script, he delivered the draft to Soltis, who then wrote the songs. Afterward, Landis said he approached Emily Gardner, "Lucidity's" stage manager, and the musical's assistant director, Kara Powell.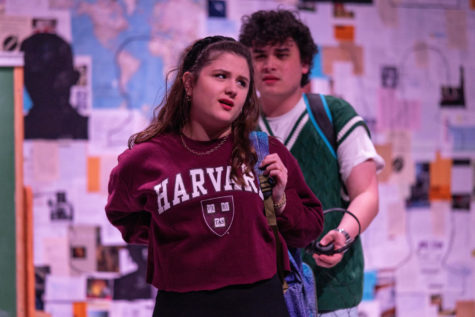 Landis asked Gardner, a UK senior majoring in arts administration and minoring in theater and communication, to help produce the show. 
"As soon as he approached me about (the show, I knew) it was a very exciting opportunity," Gardner said. 
Gardner primarily handled the communications for the project. "We've been working closely with the department of fine arts (and the Department) of Theater and Dance," she said prior to the musical's debut.
A small team of students worked together to produce the musical, which required every member to pull the extra weight that accompanied the endeavor. 
"We've got a team of six people trying to put on a musical, and none of us have ever produced a musical from the ground up," Gardner said.
Landis said the crew and the cast of nine is entirely made up of students. 
He explained that some cast members are his friends, but most are people he has never worked with before. 
While the cast was small and the resources were limited, the team still managed to deliver a performance that touched on many important themes surrounding mental health. 
As Landis explained, the musical focused on escapism and how young people retreat from their lives to "rid their (lives) of the daily monotony."
He said he hoped that, through engaging the audience with these heavy themes, more people would become inspired to open up about their struggles and experiences from high school. 
"I think (our play) serves as a catalyst for conversation. (It raises) awareness for (the) younger generation's mental health and how it's been declining over the years, and we need to do something about it," Landis said. "What we can do is create a conversation through a piece of theater that we're all really proud of."