Kentucky's poor shooting and injuries lead to first Vanderbilt win in Lexington since 2007
Kentucky mens basketball (20-10, 11-6 SEC) had its senior day spoiled by Vanderbilt (17-13, 10-7) as the Commodores beat the Cats 68-66.
Vanderbilt hadn't won at the historic college basketball mecca since Jan. 20, 2007, but Jerry Stackhouse's squad would end this streak against Kentucky with a fadeaway jumper from Jordan Wright just inside the free-throw line with three seconds on the clock.
Wright would have a game-high 23 points as he went 8-12 from the field to push Vanderbilt to its historic win at Rupp Arena.
It was Kentucky's poor shooting performance, however, that ultimately led to the end of a four-game win streak for John Calipari's team, who was not impressed with the Wildcats' shooting on the night.
"Now, when you shoot the way we shot today, you're going to lose a lot of games. We got open shots, a lot of misses. We missed some free throws down the stretch that could have done some things," Calipari said. "But I told them, 'Guys, you're missing open shots, just keep playing, you're fine.' Just, somebody's got to make a shot or two. And we made one or two."
Kentucky shot 32% from the field, going 19-59 and hitting just three of 19 attempts from beyond the arc.
The Wildcats' two best shooters CJ Fredrick and Antonio Reeves combined hit just two three balls from twelve attempts, with Reeves describing the night as a "struggle," despite being encouraged to keep shooting.
"It was a struggle. I just kept shooting. Everyone just kept shooting, but it was one of those nights where you struggle from the field," Reeves said. "We just had to fight, defensively and offensively."
Oscar Tshiebwe had 21 points and 20 rebounds to lead Kentucky, but it was not enough for the Cats, who were without crucial player Cason Wallace. He left the game injured in the second half and played 19 minutes with six points.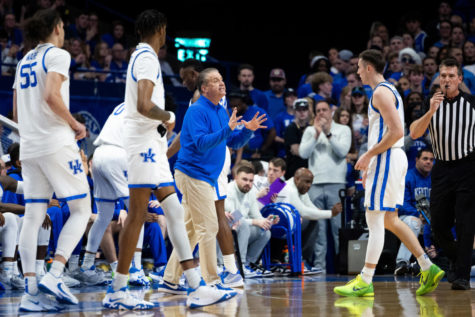 The Cats were not just down Wallace, but were without Sahvir Wheeler as well – a fact that Tshiebwe could not ignore after Kentucky was forced to put Reeves, who does have some experience bringing up the ball in his time at Illinois State, in at point guard.
"Cason makes a lot of plays and helps many people. Antonio (Reeves) is not a point guard, that boy is a wing," Tshiebwe said. "But we are going to need Cason. We are going to need Cason, we are going to need Sahvir (Wheeler) and the other people who have been making plays."
Despite the injuries and poor shooting from the Cats, Big Blue Nation was, nonetheless, disappointed, as Kentucky was up 66-64 with 1:10 to play.
Yet, Stackhouse's squad had different plans to celebrate senior day in Lexington.
Kentucky will finish its regular season on Saturday, March 4, as they will travel to a hostile environment in Fayetteville against Arkansas, with tipoff currently set for 2 p.m. EST and can be watched on CBS.