UK Department of English to host spoken word 'Incubator' series
UK's Department of English will host an Incubator Reading Series featuring spoken fiction, nonfiction and poetry from UK students on Feb. 23.
This semester's event will be held in the Cats Den in the Gatton Student Center from 5:30-7 p.m. 
The series, beginning in August 2022, is the first in the last two years. The department had not hosted a reading series since 2020 due to the COVID-19 pandemic. 
Sponsored by UK'S College of Arts and Sciences, it was held three times last semester and will be held twice this semester. 
Set to share their works at the event are UK students and professors, including Master of Fine Arts (MFA) candidates. The speakers include Deidra White, Julian Long, Nick Ruma, Sajida Diagustine and Geronimo Sermiento Cruz.
Robin Rahija, the creator of the Incubator Reading Series, said that the process of picking the readers started with her choosing the first three readers in August, letting those readers pick the next and so on.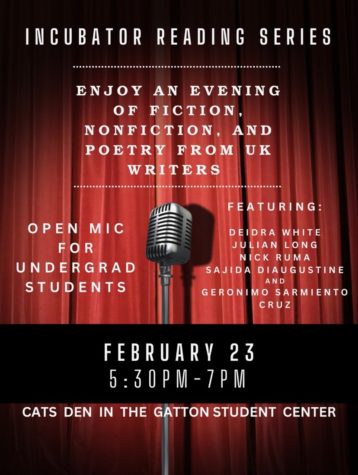 "They (the featured writers) pick who reads, the venue, the date, the time, all of that. They also handle the advertising of the event and the administrative tasks like tech support and collecting reader bios," Akhira Umar, the program coordinator, said.
This selection process is meant to enrich students and give them a first look into the business of promoting and advertising their works.
"Everyone gets experience reading in front of a crowd, as well as event planning and marketing experience. Everyone is a co-organizer of the series," Rahija said.
Members of the public are also able to participate. Through a first-come first-serve basis, the event will have available open mic spots. 
"Each reading typically has three MFA (Master of Fine Arts) readers — one for fiction, poetry and nonfiction — and one faculty reader, plus any undergrads who join for the open mic," Umar said.