Collegiate Curls hosts Natural Hair Care Expo
UK's Student Activities Board (SAB) and Collegiate Curls came together to host UK's first Natural Hair Care Expo, on Thursday afternoon in the Gatton Student Center. 
The expo gave students with textured hair a chance to receive tips and tricks, watch demonstrations, receive free products and enter a drawing for a chance to win one of two blow dryers.
"I think hair is your key to confidence. So, I think if your hair looks good, you feel good and you'll go out and be more successful in whatever you do," Mollie Share, the person behind the event, said. 
Share worked with Melanie Day to find the Lexington businesses that were at the event. 
Collegiate Curls, founded in October 2016, shares a goal of uplifting multicultural students and helping them achieve their dreams within higher education institutions across the East Coast. 
UK's Chapter of Collegiate Curls was founded in 2016. 
Ryan Smith, President of UK's Collegiate Curls chapter, said she wished she learned how to take care of her hair sooner.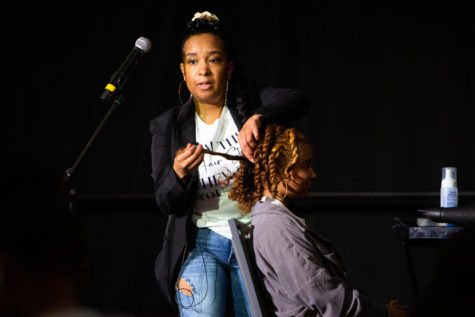 "There is no specific way that your hair is supposed to look. As long as you're taking care of it; healthy hair is good hair. So, if you're taking care of your hair, you're supposed to embrace however it looks," Smith said. "So, you have to be able to learn about your hair and be able to embrace it, in whatever form that is." 
The expo had representatives from several Lexington businesses, including Twist of Textures, Well Groomed Barbershop Parlor, Hairapy Studios, Tina Braids and You've Got Curls and Hair Loss Center. 
Each business had a booth during the event.
Expo attendees were given two tickets for free products that the booths were giving out. These included things like brushes, hair moisturizers and raw shea butter. 
Day Allen, a UK student and one of the winners of the blow dryer drawing, said the event felt like a community.
"(There's) a lot of people of color just coming together to express that we have hair and that we love our hair and that we are able to just like, have products and other things that celebrate the fact that our hair is how it is," Allen said.
During the event, there were tutorials on how to do specific hairstyles, like twist outs, demonstrated by Sherietta Green, owner of Twist of Textures.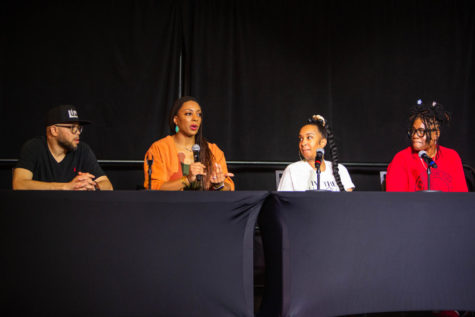 A panel was held to discuss things like hair care tips, ways to manage a hair care routine and putting an emphasis on having a hair care professional involved in hair care routines.
The panel was made up of Green, Anthony Burdette, owner of Well Groomed Barbershop Parlor, Melanie Day, owner of You've Got Curls and Hair Loss Center and MaChon Fogle, owner of Hairapy Studio. 
"I just felt like there was a need for it on campus," Share said. "I just feel like there's so many people here with so many different backgrounds and we just don't focus on that. I wanted to do that."