NAACP discusses 'hidden figures' as part of Black History Month
UK's National Association for the Advancement of Colored People chapter (NAACP) had their second meeting of the 2023 Spring term on Tuesday, Feb 7. 
The meeting was held in White Hall Classroom building and had members of the student body as well as officers of the NAACP in attendance.
UK NAACP President Jakori Tinslsy said the organization meets biweekly to discuss different topics affecting minority students on campus.
For Black History Month, the chapter has centered their meetings around a series of topics. This week the organization discussed "hidden figures."
"We wanted to educate people about people you don't typically hear about in schools, even in college," Tinsley said. 
Staff members each picked a figure from Black history who is not often discussed or talked about in public school education. Presenters described each "hidden figure" by their achievements and the effects they had on Black history. 
The figures included Nat Turner, Patricia Harris, Shirley Chisholm, Mary Bethune, A. Phillip Randolphn and Katherine Johnson.
Patrcia Harris was the first Black woman to be the dean of Howard Law School. Harris was also appointed as the Secretary of Housing and Urban Development in 1977 by Jimmy Carter.
Katherine Johnson was a mathematician who worked at NASA. Her calculations were used in multiple NASA endeavors including the 1958 document Notes on Space Technology and the May 1961 mission, Freedom 7, according to her biography on NASA's website.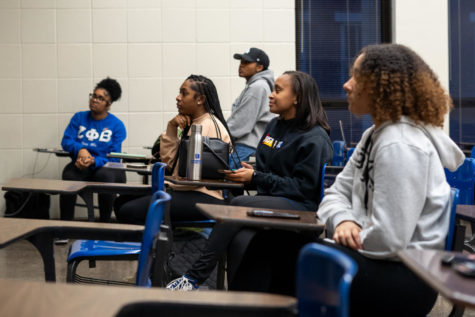 A quote presented on the ending slide read, "A man who stands for nothing will fall for anything," attributed to Malcolm X.
Looking ahead, NAACP has multiple other events planned to celebrate Black History Month, including Freedom Week and Black Love.  
Tinsely said Freedom Week hosts events that center around empowerment for the African American community, and Black Love provides a space for Black couples to speak on the terms of their relationships including the struggles and triumphs. 
Freedom Week begins Feb. 20.
"We always have some type of professional development event, we have a community service event," Tinsley said. 
The events ultimately end with the Freedom Ball, an awards ceremony highlighting multicultural organizations on campus. This year the Freedom Ball will be held Feb. 25.
Former UK NAACP President Chandler Frierson will speak at the Freedom Ball.