UK's 'Rooted Forces' dance performance shares stories of struggle
The UK Department of Theatre and Dance held its annual dance performance "Rooted Forces," the third of five faculty-led productions to be put on this school year, Jan. 27-29 in Guignol Theater.
Dancers performed five different pieces, and each held a different story. Some of the performances communicated the struggles and stigma surrounding anxiety, while others showed that despite our struggles we can support each other and overcome all kinds of things.
Each dance was created by a different choreographer with a different vision, and some were fully choreographed by UK students and faculty.
"If we've done it well, every part of the mechanism tonight will be led and run and delivered by students," Stephen Wrentmore, producer of the season, said.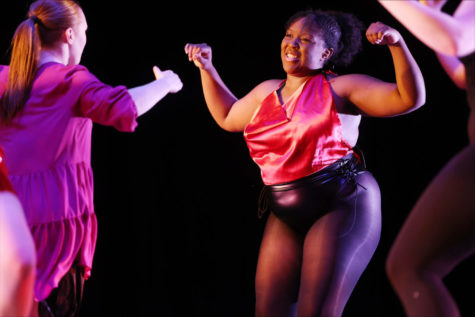 Though it was a faculty production, the main goal of Wrentmore and the rest of the staff was to make sure students were very involved in every step of the process.
"That relationship with the live event and the performing arts … students receive an experience that we can't fake in the classroom," Wrentmore said. 
The concert consisted of five different pieces: "Layers…and what's in between," "My Head Lies," "Unspoken Dialogue," "Blueprints" and "Lividly .2."
Theresa Bautista choreographed "Layers…and what's in between." She is an instructor of dance within the Theatre and Dance Department at UK and served as artistic director for the show.
Bautista is an artist based out of Louisville, Kentucky, and has been commuting for the last 8 years to teach at UK.
"The students and department are terrific and wonderful," she said. "It's definitely worth my time to come to Lexington two days a week to teach."
Bautista has been brought in as a guest choreographer in some of the department's past productions, but she said her role as artistic director let her oversee the entire performance.
Bautista said her responsibilities in "Rooted Forces" included working with everyone to make sure all aspects of the show come together. 
Michele Haynes, one of the dancers in the "Blueprints" piece, is a senior majoring in theater and minoring in dance.
Haynes said it was nice to come back to dance, since she hasn't done it much since high school. She also said it was nice to work with everyone in the department and put her all into her performance. 
"It kind of was a way for me to close a chapter on college, but also revisit an old chapter and dance," Haynes said.
She said preparing for a performance like this is a lot about relaxing and trusting yourself, she also mentioned all the fun she had preparing to go on stage.
Haynes said she enjoys making people feel things, and dancing makes for a "rewarding experience."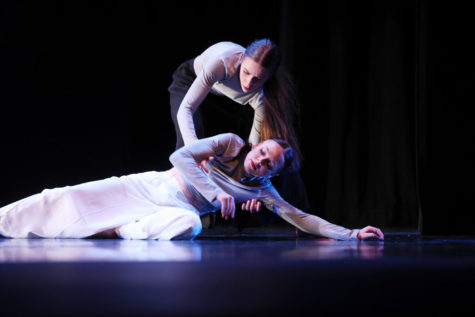 Several UK students attended the concert, two of whom were seniors who met in a dance class their freshman year.
Lucia Sanchez, a marketing and fashion merchandising major and KRNL fashion co-editor, and Kendall Rollman, a human health sciences major, said they knew some of the dancers and wanted to come support the arts.
"I was just impressed at the length of the duration of the pieces, and the stamina that all the dancers have," Sachez said. 
Both agreed the performances were very impressive, but the second piece, "My Head Lies," was their overall favorite.
Bautista said she hoped to watch all their hard work come together and wanted the audience to know it's okay to feel their emotions. "I want them to know that it's okay to walk away with questions," she said.