Sanders Hall: A hidden gem of UK's campus
When students prepare to take notes inside Sanders Hall, some notice an iridescent gleam pouring over their laptop screen, while others stare at the stained glass lining the walls of their classroom.
Located at 629 South Limestone, commuters will find a small church-like building. UK students may find themselves wandering into one of the most breathtaking lecture halls they might ever sit in.
The kaleidoscopic windows glow purple, gold, red, green and blue, flooding the room during class instruction. Intricately designed religious symbols, such as birds, holy books, hand signs, anchors, goblets and more can be found at the peak of the glass.
The stained glass and religious scenery can be attributed to UK's willingness to find and create more space for its students.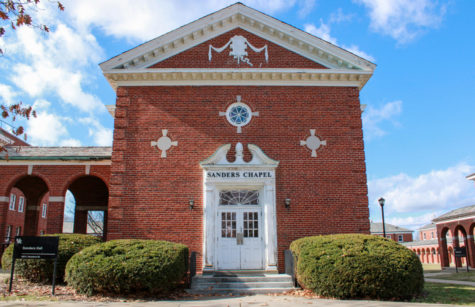 Built in 1950, Sanders Chapel, along with its connected buildings, originally comprised the Lexington Theological Seminary. On May 12, 2013, UK purchased the seminary's campus for $13.5 million and renamed the chapel Sanders Hall.
The purchase was made to solve the scarcity of classrooms across campus, caused partly by a large influx of students and renovations to the Gatton College of Business and Economics.
Carey Higgins-Dobney, assistant professor of media arts and studies, teaches inside of Sanders Hall.
"I really like teaching in Sanders," she said. "I was telling a couple of colleagues how nice the space is. It was a little intimidating at first glance … but once we got settled in, it made for a great class environment."
Higgins-Dobney said the classroom is bigger than any room she's lectured in, and she and the students love the light and space.
"I like the stained glass. I do notice that I stand in the reflections sometimes, but I love having all of that color in the room," Higgins-Dobney said.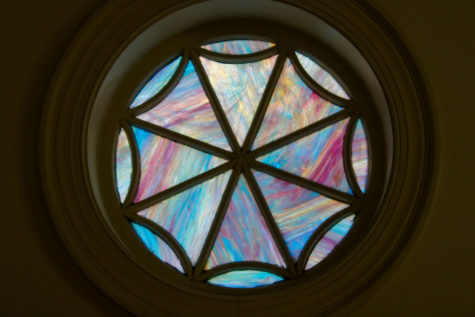 Sam Noelcher, owner of Zeigler Stained Glass, a local stained glass retail location in Lexington, said stained glass lasts on average around 125 years.
However, refurbishing the stained glass may need to come sooner than the 125-year benchmark due to sunlight exposure.
"When you take exposure into effect … the south side takes the brunt of the weather and heat," Noelcher said.
Higgins-Dobney also said she enjoys the classroom because music and video presentations aren't going to disturb any other classes.
Disturbing another class is almost impossible in the hall, in which it is the only classroom in the entirety of the building.
Amongst such a benefit, some students who have class in Sanders Hall attribute the 73-year-old lecture hall to the culture of UK.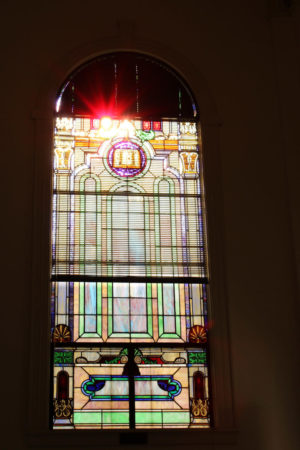 "I'm glad we have buildings like that on our campus … I think it adds character," Riley Moses, a media arts and studies freshman at UK, said.
Moses said the setting revitalizes her learning, as well as being a nice change of pace from regular lecture halls.
"I like the change of pace from the regular lecture halls," Moses said. "I like the atmosphere the stained glass windows bring, especially when the sun hits them."
Other students, like media arts and studies freshman Genesis Pena-Lozada, found it shocking to have such an unusual classroom but ultimately welcomed it.
"It's odd having class in a chapel, but it makes for a more vivid learning space, especially in comparison to most lecture halls at UK, which can feel sterile and lifeless," she said.