Wildcat Market promotes clean eating and sense of community on campus
Years of parental pestering to "eat more vegetables" paid off when nearly 600 students lined up around the former University Motor Pool for UK's first ever Wildcat Market on Sept. 14.
UK's Student Activities Board (SAB) and Student Government Association (SGA) provided all students in attendance with $10 vouchers for a wide range of produce, such as watermelon, lettuce and peppers.
Hannah Bondi, UK junior and SAB director of traditions, said, "You know, the dining hall really limits what [students] have, and produce is really expensive nowadays. Like, $10 doesn't seem like a lot, and if you go to Kroger it's really not, but here you can get a ton."
The majority of the market's produce was grown locally in Lexington by UK's Community Supported Agriculture (CSA) Program with the help of many student apprentices.
CSA Program Manager Kristi Durbin acknowledged the significance of the Wildcat Market beyond providing students with free food. By "calling attention to where [their] food comes from … so [they] get to know [their] farmer," the Wildcat Market and events like it allow attendees to "feel connected to where [their] food comes from."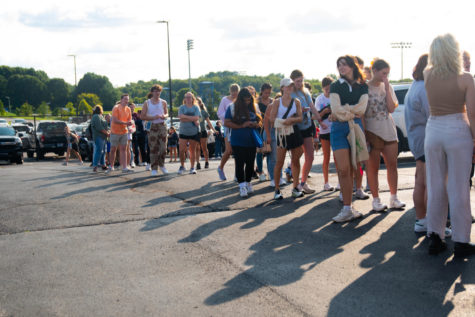 The Wildcat Market fostered connections among students as well. It created an outlet for otherwise independent student organizations to collaborate and for students to socialize.
Despite the 80 degree heat and line out the door, as SAB photographer Emily Schneck said, "Everybody here has such a big smile on their face. It's adorable."
Alyssa Walter, a senior business major, said, "I got to discover some new produce; I haven't bought parsley in a long time! And I got to hang out with my friends and get some local produce."
According to Bondi, this was the exact goal of the Wildcat Market. "We want to reach as many students as possible and provide them with produce that can enhance their diet and open them up to something new," she said.
Just outside the doors to the Motor Pool building where the bulk of the event took place, students gathered to learn something new: how to cook with their recently-acquired produce at a booth belonging to the student-led organization Campus Kitchen.
Campus Kitchen hosts a weekly event called Farm to Fork, in which it gathers unused food and makes meals, free to students.
Caleb Gooden, vice president of Campus Kitchen said, "Basically the whole idea of Campus Kitchen is just to address food inequality in Lexington, on and off campus."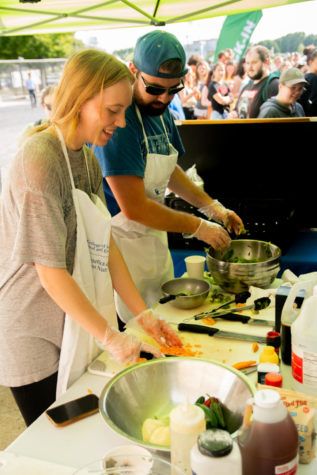 Campus Kitchen decided to partner with the Wildcat Market, offering a demonstration of how to prepare a salad with some of the vegetables found inside the market. At the end of the demonstration, students could take home a free sample of the salad and brochures containing assorted recipes.
"Part of our goal here tonight was to get our name out there but also to show that making fulfilling meals is easy to do, especially with fresh vegetables like are here tonight, and cheap," Gooden said.
In an email, Bondi said, "The turnout truly showed how much of a need is on our campus for events like this. I think that this will be an event the Student Activities Board tries to host at least yearly."