BLOG: Producing pigskin coverage is as good as it gets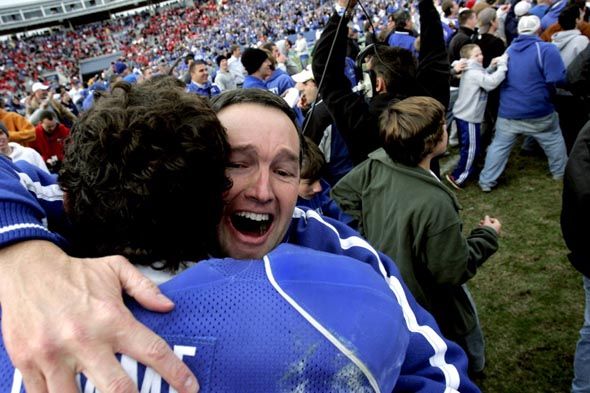 After a week of preparing our
UK football has given me so many great experiences as a student journalist. My sophomore year, Chris DeLotell and I worked to tell athletic director Mitch Barnhart's story, and that included storming the field with Barnhart after defeating SEC Champions Georgia. What I thought was a once in a lifetime opportunity was repeated twice last year as UK defeated Louisville and then No. 1 LSU.
I don't plan on any opportunities to run the field with Barnhart, the fans and players this year, but that doesn't mean I'm not excited or that this season will be anything but great. Because in the end for me, it's about the excitement of the covering a game that goes down to the wire. Games like LSU, where you're in overtime and every play matters. In a game like that all photographers know the next play is the most important, and no matter how good that photo you just took was, if it wasn't the game-winner, it's probably not the most important photo of the game.
I miss the thrill of seeing a season's best photo on the back of my camera. I love walking through the parking lot of the stadiums while all the fans chant and wave solo cups and hot dogs in each hand. I miss the thrill of running up and down the sidelines, cameras bouncing from my shoulders while trying to dodge Lones Seiber's practice kick and just to get focused before the QB can launch into the next play.
Football is exciting for everyone. The players, fans and even the media. Come back to the site to check out my multimedia. Columnist Eric Lindsey will be blogging throughout the game. Football beat writer Kenny Colston will post his story immediately after the game.
Tomorrow is the battle of the bluegrass, but bigger than that, it's the beginning of football season.