Reznor at Rupp: Only one nail was needed to hold this show together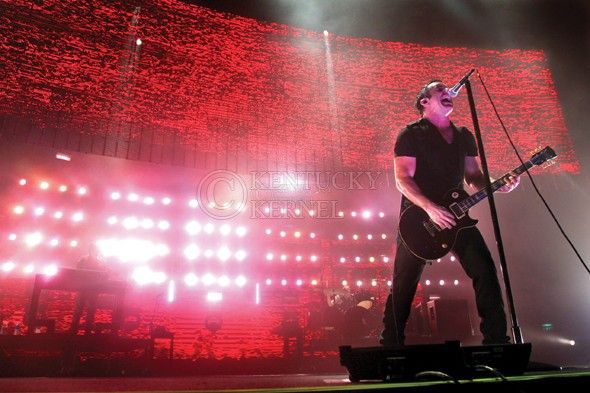 Even with dozens of lights, dry ice and a video screen on stage, it's hard to take your eyes off Trent Reznor.
Reznor, the charismatic lead singer for industrial rock band Nine Inch Nails, never stopped moving during Saturday night's two-hour set at Rupp Arena. From the opening chord of the set to the last song, Reznor managed to find a new and interesting way to engage the crowd — by playing a tambourine and tossing it into the crowd or throwing two microphone stands across the stage during a single song.
The audience fed off of that energy, growing more and more enthusiastic as the night went on. Although attendance was spotty in Rupp's arena seats, the pit in front of the stage was packed with fans screaming, singing along and, once or twice, throwing a bra toward the stage.
With such a dominant lead singer and a powerful song list, it's surprising that Nine Inch Nails makes such frequent use of special effects during their shows. Granted, it's an amazing thing when the band plays percussion instruments in front of a multidimensional cornfield, and seeing the red lights in the back of the stage forming waves as Reznor belts out "Closer" is also something special.
However, the lights become excessive an hour or so into the show. With multiple changes in stage setting and the constant barrage of flashing lights, you begin to long for something simple and stripped down.
Reznor eventually gets there during the encore — hit song "Hurt" is the moving personal narrative it needs to be with no special effects. Still, it's too little, too late for tired eyes.
The special effects were just a minor problem in what was overall a great set, though. The songs flow well together, alternating between high-energy tunes and slower songs. The band members work well with each other, and it shows.
The single weakest part of Saturday's show was the opening indie act, White Williams. The group had its moments of cohesion, but overall the guitar, drums and DJ didn't work well together.
Paired with the frequent, sometimes unnecessary use of distortion, White Williams never quite found their groove in front of the Nine Inch Nails crowd.
Before their last song, lead singer Joseph Williams suggested that if any song would be good to dance to, "this would be it." The pit remained nearly motionless. Maybe it's because White Williams needs a different venue to showcase its music — a dance club might be a more appropriate setting for the band's electronica vibe.
Still, Nine Inch Nails fans most likely didn't care too much about any small problems that may have occurred when they bought tickets for the concert. Instead, they turned out for an established band with an energetic front man.
They got exactly what they paid for.