Changes in the offense and a constant defense guide Cats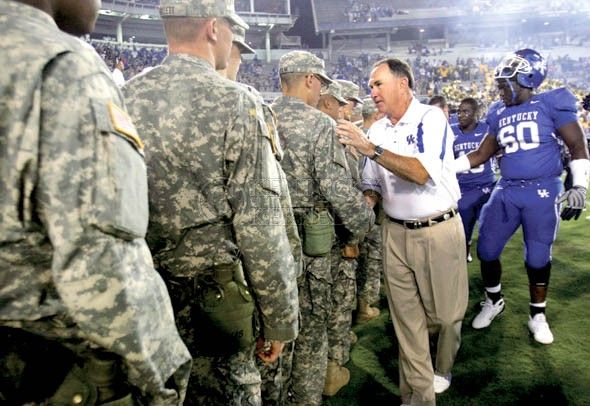 Anyone in Commonwealth Stadium could see the changes. An inflated helmet for the Cats (2-0) to run through during introductions, fancy signs along the stands, new Southeastern Conference logos on the 25-yard line of each side of the field.
But any of the 69,118 watching the first 11 minutes of UK's game against Norfolk State (1-1) could see that one thing had not changed: the Cats were still struggling on offense.
Until head coach Rich Brooks made the change.
The one that put freshman Randall Cobb in at quarterback, the change that jump-started what had been a slow offense for Brooks' squad.
"I planned on putting Cobb in around the end of the first, early second quarter," Brooks said. "Cobb gave us a real spark, running the ball with speed and athleticism."
But that wasn't the only change Brooks made. He switched out senior Tony Dixon and sophomore Derrick Locke for junior Alfonso Smith at running back. From that point, UK's offense was changed.
"That's what I was going in the game to do," Cobb said. "I went in there to give us some life."
It took Cobb, the first freshman to see action at quarterback since Dusty Bonner in 1997, a little over a minute to excite the UK faithful, using three plays to put the Cats on the board. UK never looked back in a 38-3 victory over Norfolk State. Eight minutes later, Cobb again put UK on the board with a quarterback sneak on the 1-yard line.
The change was official.
But it wasn't, nor isn't, permanent.
Hartline re-entered the game at quarterback to start the third quarter. The rest of the second half, the two quarterbacks played to a virtual tie. After the game, Brooks said the position was completely split.
"We will not decide who starts until late in the week," Brooks said. "Maybe at game time. Both will play. Rather than say I have a designed plan, if we aren't moving the ball we'll shake it up. I would rather not do that, but that's where we are."
Even with Cobb's first half spark, the two quarterbacks finished with similar stats. Hartline was 9-of-15 for 60 yards, while Cobb completed 6-of-11 for 87 yards and one touchdown. Cobb also ran eight times for 49 yards and two touchdowns.
With both quarterbacks looking to split snaps, Hartline believes defenses will have trouble game planning against the Cats, a problem that was evident with the Spartans.
"Definitely we give different types of looks to keep defenses guessing," Hartline said. "Randall can throw and run. We're both young to the game, so we try and help each other as much as we can."
While the quarterback competition stole the show, Brooks said he did see another improvement for the offense — the running game. Sophomore Derrick Locke led all backs with 96 yards on five carries and one touchdown. Sophomore Moncell Allen ran for 71 yards on seven carries — all in the fourth quarter — and one touchdown. Not what Brooks called a great running attack, but better.
"We're a little happier," junior Alfonso Smith said. "Felt we could have done more. But everyone got out there and we were pounding them."
The defense also continued its dominance on the field. Despite a few drives deep into UK territory, Norfolk State came away with only one field goal. It's the first time UK has opened the season without allowing a touchdown since 1958. It's also the first time the Cats haven't allowed their opponent to score a touchdown in consecutive games since 1978, when UK held both Virginia Tech and Vanderbilt scoreless. That type of defensive performance wasn't exactly what Brooks had in mind when the season started.
"Did I expect us to only give up three points," Brooks said. "Probably not. But now I think we can do better."
So does junior linebacker Micah Johnson.
"There's still a lot of room for improvement," Johnson said. "Little things, a lot of things to continue to work on."
While the running game is still progressing, the defense is still dominating, and the quarterback's are dueling, seemingly nothing can knock UK off its perch. Not even a competition.
"I don't consider it a battle," Hartline said. "Randall's a teammate to me. Seeing Randall's success is great. We're winning games. That's what matters."