ROTC cadets 'bust a move' for Dance Blue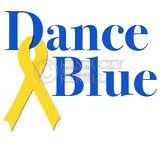 One Dance Blue team is showcasing its moves early this year, but students may have to raid their parents' closets to fit in.
On Friday at 7 p.m. in Barker Hall, the Air Force ROTC Dance Blue team will host an '80s-themed dance-off for the annual Dance Blue fundraiser, with all proceeds benefiting the UK Pediatric Oncology Clinic. The event costs $5 at the door, and every dollar earned goes toward the team's Dance Blue pledge, which will be donated at the 24-hour dance marathon on March 5.
Chelsea Arnold, a psychology and Spanish senior and Air Force ROTC Dance Blue captain, said each cadet has pledged to raise $300, and she expects to have a large turnout on Friday.
"Anyone that can bust out a move would be great," Arnold said.
With the help of a disc jockey from Saddle Ridge, the event will kick off with cadets teaching line dancing to students. At 8 p.m., organizers will begin a "Grease-style" dance competition in which dancers will be tapped and asked to leave the floor until a champion is crowned. The top-three dancers will receive prizes.
The night will feature popular dance music from the '80s, and Arnold said students are encouraged to bring out parachute pants, shoulder pads, off-the-shoulder sweatshirts and acid-washed jeans.
Arnold said she plans to hit the dance floor sporting her aunt's windbreaker, leg warmers and a pair of vintage sneakers.
While gearing up for her third year participating in Dance Blue, Arnold said she was inspired to encourage others to participate in the dance-off. As the team's captain, she said organizing the fundraisers has been extremely hard work, but she still smiles and laughs when talking about it.
"I love Dance Blue so much," Arnold said. "It's hard to grasp what it all means, but when you get there you say, 'I'm so glad I worked so hard to raise all this money.' "
The Air Force ROTC team has raised more than $400 through Web site donations, mail order donations, a restaurant night at BD's Mongolian Grill and a penny war competition.
"One of the Air Force ideals is service before self," Arnold said. "Dance Blue is a really great way to start teaching cadets that idea."