Too many fans, not enough tickets: Students spend hundreds to attend UK basketball games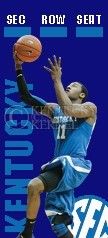 Thousands of UK students will line up along the sidewalks of Memorial Coliseum on Monday night in hopes of lucking into some blue gold — UK basketball tickets for the Southeastern Conference games ahead.
Because of the dramatic increase of attendants at this year's lottery compared to last year's, more students have been leaving Memorial Coliseum empty-handed. The discrepancy between supply and demand has led these students to other, more expensive ways to gain access to Rupp Arena.
At the lottery, tickets are $5 per game, but journalism sophomore Kayla Hayden spent $250 on tickets to the UK vs. University of North Carolina and UK vs. University of Louisville games combined. Even though Hayden did not enjoy paying that much for tickets, she said she would pay anything to show her Cats pride.
"I have been to every big game since I started school at UK," Hayden said. "To me you really can't put a price on a ticket."
Accounting sophomore Bo Zimmerman has spent $305 on tickets this season. Scalping has become a necessary course of action for him because of his unlucky history at the lottery.
"I simply think the dispersing of tickets should be on a first-come, first-serve basis," Zimmerman said. "This would truly separate the bleed-blue fans from the sellers."
Unlike Hayden and Zimmerman, some see the lottery as an opportunity to make  a little extra cash for gas money, groceries or a trip to the mall. Craigslist, eBay Inc. and Facebook Marketplace are all filled with students selling their tickets to make an extra buck.
Social work sophomore Laura Kosik  sees the lottery as an opportunity to cover her grocery bill for the month. She sells her student tickets on Facebook Marketplace.
"I always think of the extra money from ticket sales as free groceries," Kosik said. "After I sold two Ole Miss tickets for the eRUPPtion Zone I literally went straight to the store and got my groceries for the month. I couldn't imagine wanting to go to a basketball game for $5 when I could have free groceries for a month. I don't bleed blue enough to pass up free money."
Because of the popularity of UK basketball this season, increased attendance has prompted changes to the lottery procedures. On Monday, doors to Memorial Coliseum will close once the crowd exceeds 8,000, according to a UK Athletics e-mail sent on Feb. 3.
Students will form two lines and will be let in between 8 and 8:30 p.m. Those who plan to sit together at games should line up together and have their IDs ready for when they enter the building. Lottery tickets­ will be distributed upon entrance to Memorial Coliseum as opposed to being distributed from the top of Coliseum ramps.
For more information on how to purchase tickets, visit (www.ukathletics.com.)