UK's opportunity for revenge has arrived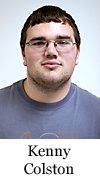 This is the day you've been waiting for since Jan. 26.
It was circled on the calendar, especially after the South Carolina Student Government sent that snotty letter claiming supremacy. It didn't become erased when the South Carolina Student Body President, Meredith Ross, sent her apology.
Revenge has been in the air and on Thursday the opportunity for it comes.
"I think (the letter's) pretty funny," said Tim Kempf, a civil engineering junior. "You talk smack just because you beat UK. Now, you're going to get whooped."
South Carolina, the only team that has defeated UK in its magical season so far, makes a return trip to Rupp Arena Thursday. A chance to return the favor is here.
And it's been a long time coming.
"I expect revenge," said Ryan Cline, a journalism sophomore. "I want to blow them out because I don't like Devan Downey. I'm taller than him anyway."
It doesn't matter whether or not UK head coach John Calipari and Co. have been seeking this revenge, Big Blue Nation has — from UK Student Government President Ryan Smith to the last student on this campus.
They want John Wall to show Downey what dropping 30 points in Rupp Arena is like.
Fans want the Gamecocks to know seven championship banners mean more than a three-game winning streak. And no matter how many other schools use the "Wildcat" nickname, there's only one that matters.
Thursday is the fans'— and the teams' — chance to do so. The expectation is simple enough: expect Rupp to be rocking more than it has all year.
" 'Cause of the team this year and how you aren't suppose to lose at home, it's going to be crazy," Cline said. "Plus they beat us away, so now's our chance."
In interviews around campus, the majority echoed the same thing: the Gamecocks should expect a beatdown, Downey will be schooled and the Cats will show everyone who's boss once again.
And when it comes to this expected victory, the reaction should make just as large of a statement as the margin of victory, they agreed.
"We don't need to say anything," Kempf said. "Just go back into the locker room, no fans say a word. Everyone just file out of Rupp Arena. That should prove our point. We're better than that. Their lack of class was shown with their actions."
Sounds like fighting words.
But not everyone is out for Gamecock blood. A few other students want this win for reasons that have nothing to do with a resolution, letters or Downey. To them, a victory pretty much locks up a 44th Southeastern Conference title and No. 1 seed in the NCAA Tournament. Achieving that makes them content enough.
"Revenge doesn't matter to me," said Sheri Ward, a history senior. "Another win in the SEC will lock up the conference and give us a No. 1 seed. That's enough for me."
Noting that with success comes a lot of jealousy, the letters and more do not faze Ward. She understands when opposing teams rush the court and write resolutions about your team, you're doing something right.
She's on the right track.
Even if the Cats lose against South Carolina, the bigger picture has always been banner No. 8. Two losses to a team who will finish in the bottom two of UK's division won't kill that goal.
It may leave a bad taste and it may be cause for a second resolution, but it's not the end of the world. Even with a Thursday loss, the Cats can still lock up the SEC, get a bye in the SEC Tournament and grab a No. 1 seed in the NCAA Tournament.
But I'm sure most would love to accomplish all that and beat South Carolina.
John Wall, DeMarcus Cousins and Patrick Patterson, you're on notice.
Your peers want victory and blood on Thursday night. They want you to deliver it.
And students and fans, you have a job, too. Make it easier for the players and bring life to Rupp. But make sure you listen and follow the creed many before you have lived by.
"We hold ourselves to a higher standard," said journalism sophomore Nick Metzler.
So nothing vulgar or out of control. Keep it classy, Kentucky.
Revenge is always sweeter when you do it the right way.